Short Girls Quotes and memes are quite in nowadays. Height, weight, and color of skin don't matter at all when you truly love a person. We all are unique in our own way. But teasing your loved ones for fun is the foundation of a healthy relationship.
We all have one short heightened friend in our circle, with whom we share valuable time. We tease them of their height just for fun, and this shows our love towards them. our collection of short girl quotes will help you to make valuable memories with your little girl.
Funny & Sarcastic Short Girls Quotes
"Big bomb in small packet"
"Keep calm and love a short girl"
"Keep calm and appreciate my height"
"Every group has a short girl who is the heart of the group"
"A short girl and a tall guy makes the perfect couple"
"Short and cute but not mute"
"just a small girl with a big heart"
"Every tall guy deserves a short girl"
"I am just like a small seed growing into a strong tree"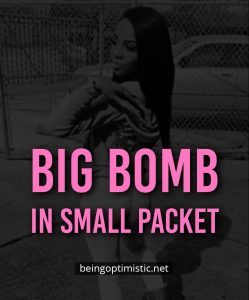 "Just a small girl with big dreams"
"I am not short, my height is just cute"
"I am a cute Minion in the world of Barbie"
"And though she is little, she is fierce" ~SHAKESPEAR
"We maintain a great perspective on life because we're always looking up"
"Though she is short, she has a dream of a tall, handsome guy"
"Life is short and so am I"
"God only lets things grow until they're perfect. Some of us didn't take as long as others! "
"I was told I would never make it because I'm too short. Well, I'm still too short. It doesn't matter what your height is, it's what's in your heart."  ~Kirby Puckett
"What?! I'm not small! It's the world that's too big!!"  Hiromu Arakawa
"Tall men come down to my height when I hit 'em in the body."~Jack Dempsey
"Even the smallest person can change the course of the future" R.R Tolkien
"I'm not short. I'm fun-sized!"
The best things come in small packages. ~Amirah
Sometimes, said Pooh, the smallest things take up the most room in your heart ~Winnie the Pooh
Tall girls are hot, short girls are cute. – Harry Styles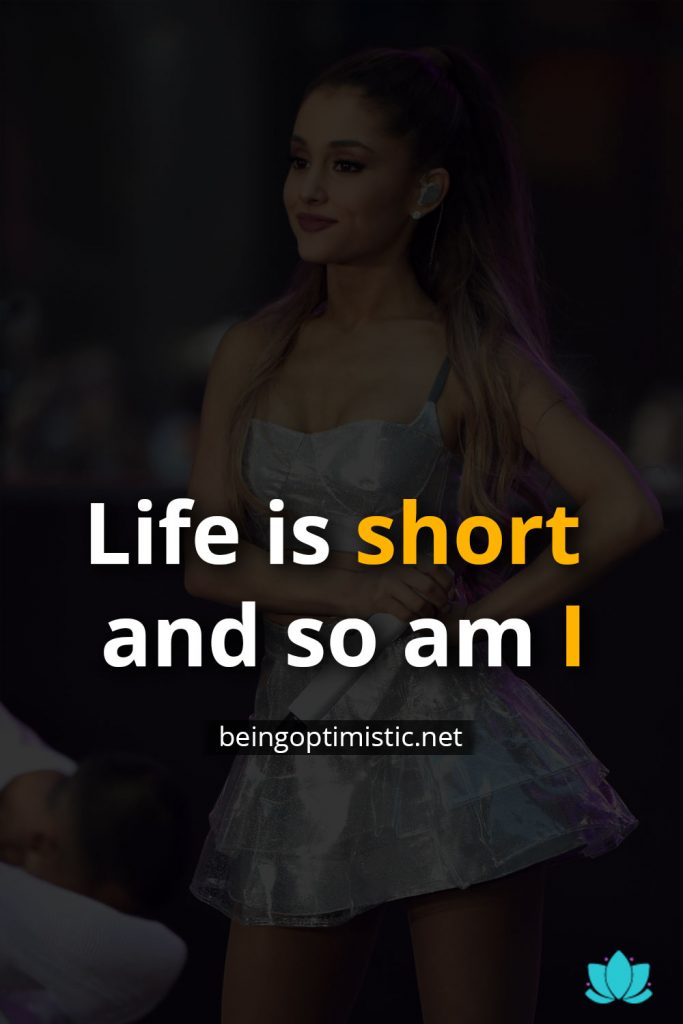 Short Girl Problems
Being a short girl, you have to face many problems. People make fun of your height. No matter what is your age, they always treat you like a child. Being a short girl, you have to ask for the help of others while picking up something from height and putting something on height. Here are some quotes you can relate as being a short girl:
Being short you often hear people calling you shorty, munchkin, Minnie, micro and small world, etc.
Pants are more like endless tunnels.
My feet don't touch the ground when I sit down
Maxi dresses are not my friend.
You always need a seat on front row no matter if you have to note the lecture or watching a movie in the cinema
Being a short girl you can't enjoy concerts if you are standing in the middle of the crowd
Always being forced to sit in the middle of the car because you are the smallest to fit in.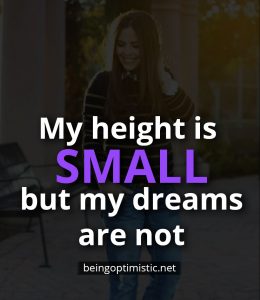 Check out Being Optimistic for a lot more fun stuff!
        Short Girls Quotes Funny
Short girls are best at humor and they make everyone laugh with their skills. When someone makes fun of their height they don't mind, they just stay positive and spread happiness around them.
Here are some of the funny quotes about short girls:
"Everyone calls you, small world"
"When you are small and healthy, everyone calls you 'small elephant"
"Short girls are the happiest because they can't reach sadness"
"Dynamite in packing of a candy"
"I am 5′ 2″ but my attitude is 6′ 1″!
"Being a short girl your head is always used for armrest"
"Being a small girl, you really cherish the moment when you see someone smaller than you"
"Small pizza with crazy topping, mad sauce, and fierce cheese"
"Short girls look innocent but are the craziest ones"
"You can measure height. But you can't measure heart"
"My height is small but my dreams are not"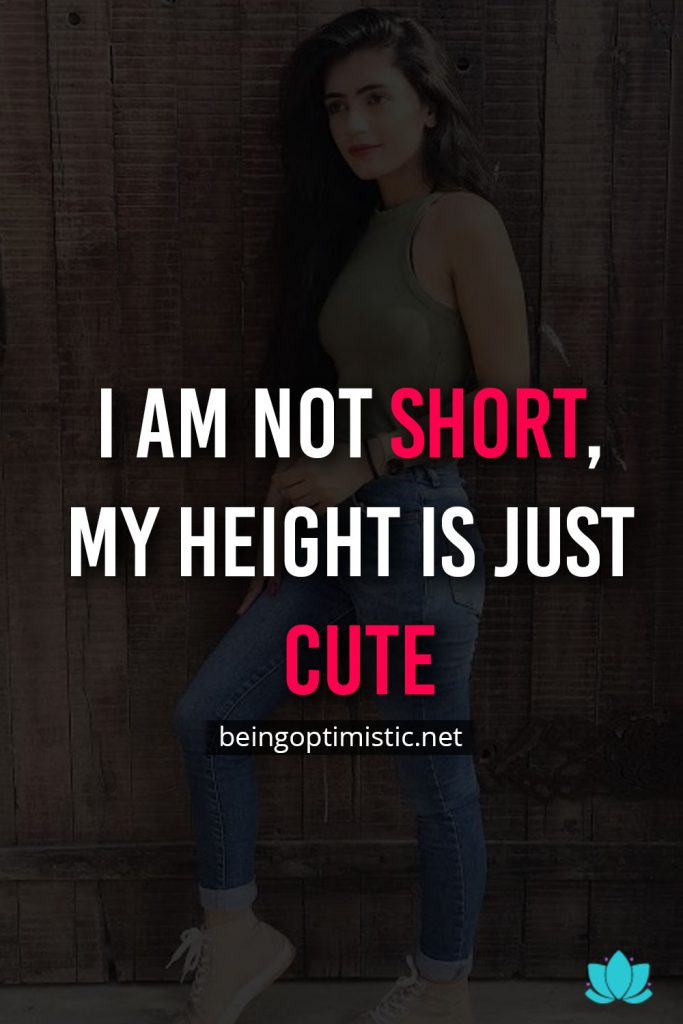 Short Girl's Quotes for Instagram & Bio
Like other social apps, Instagram is one of the most used networks by youngsters. Here are some quotes you can use as a caption, or you can use to express your love towards your short girl or girlfriend.
Size has nothing to do with fierceness.
Short girls are easy to lift and easy to love.
Being able to walk under things without having to duck your head.
Marry a short girl because they give the best hugs & could listen to your heartbeat, too.
Some hills are each only a few centimeters short of being a mountain.
I am not short. I am just compact and ridiculously adorable.
I'm not short. I'm fun-sized, bite-sized, vertically efficient, adorable, dainty, & great at hugging.
I am not short, I am just more down to earth than other people.
Life's too short. I'm not!
Life is short and complicated – just like me.
Chase your dreams. In high heels of course
Short women are never mysterious, or elegant, or pursued by handsome men. And they're always treated like children.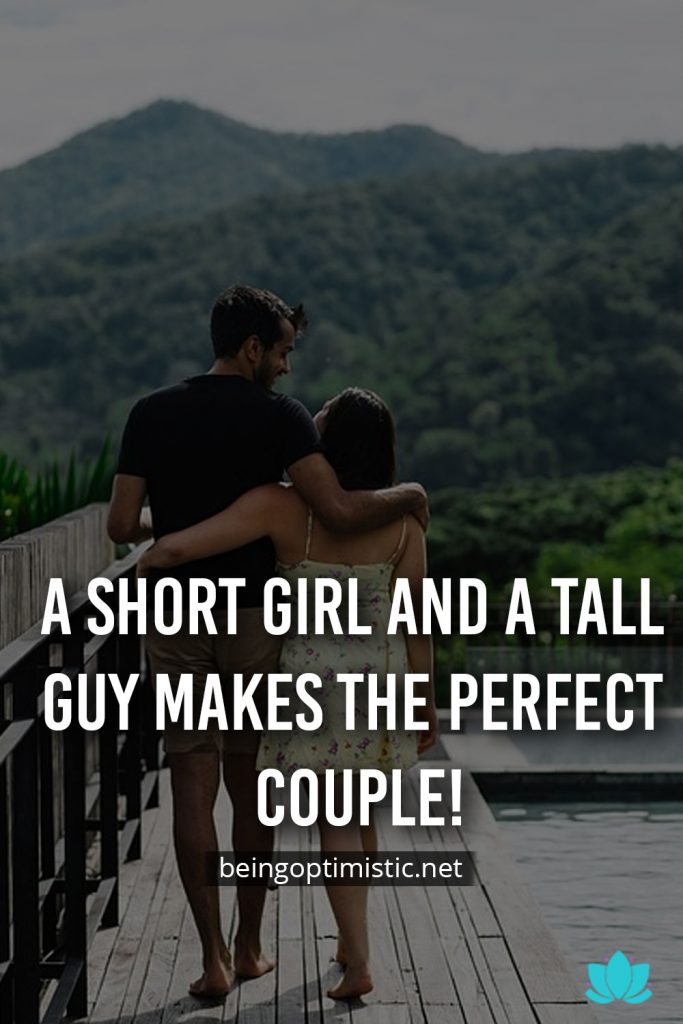 Short Girl Memes