In today's life social media plays a significant role. Almost every single person is addicted to social media and it has tremendously changed the way of living. People use social media to learn new information, for communication, for online business and to share their ideas and views with their fellows. Instagram is one of the famous social media app used by billions of people worldwide. People uses this app to share their photos and ideas, to interact with new people worldwide and most importantly to advertise their business. Excess of everything is bad for human health. No matter how easy Instagram has made our life but we can't ignore its's side effects also.
Pros & Cons of Instagram in 2022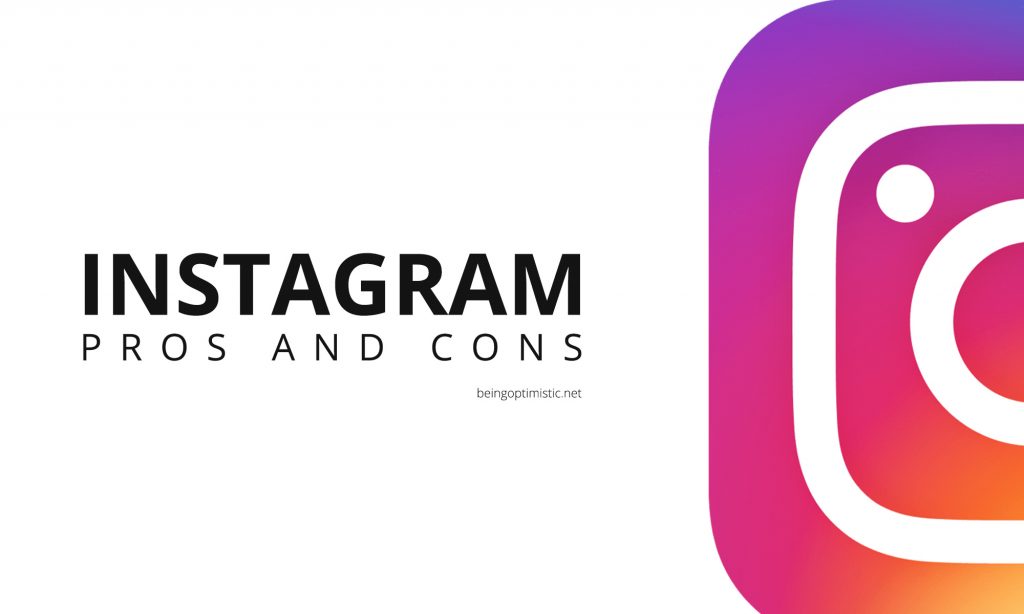 "Social media is not a media. The key is to listen, engage, and build relationships." — David Alston, author
This article will help you to identify major pros and cons of Instagram.
 Pros (Advantages) of Instagram
Instagram has following advantages:
Genuine reach: Instagram works in natural and genuine way. It provides you facility to grow your business purely. You have direct access to your customers and they can also contact you directly. Also it does well in privacy as if you have private account only people of your choice remains in your friend list. Your followers can request to follow you if you have a private account. And if you don't have a private account your followers are based upon how you interact with them and if you upload content based on their interest. If you want to increase your following in genuine and real way you just have to focus what kind of content is trending and which things people are loving the most. When you start following trending fashions and contents your fan following increases in natural way because everyone wants to stay updated.
More Visual Medium: As we all know Instagram is mostly used for sharing photos and videos with your loved ones. The thing which makes it more prominent among other social media apps is its more visual medium. Sharing your pictures and videos is the biggest way to gain your fan following. As a visual medium Instagram provides you more option to edit your pictures and videos. Filters work like magic and are the most important tool in editing your pictures. There are number of filters available to make your selfies more beautiful. If you are not looking good enough at any event just apply filters and save your memories.
Effortless Search: You don't have to put any effort to search for anything. Just use the right hashtag and you are ready to find what you are looking for. You can use search bar to find the account of person or brand you are looking for. Hashtags helps you a lot to search for right content and you can also follow hashtags to stay updated about the content. Instagram has made life much easier. Your desired person or brand is just a click away from you. Put the right name or hashtag and you are easy to go.
Effective Promotion of Brands: Instagram helps you to promote your business in an effective way. Instagram was initially used for sharing pictures and videos. But now one of the most important advantage of Instagram is that this platform provides you ability to promote your brand. This feature helps small brands to establish. They can just make their IG pages and advertise them. The right audience will see your products and they can contact you. This feature also highlights the point of using international brands as some famous brand provide worldwide shipping to flourish their brand all around the world. You can use models and actors to attract people's attention and you can send PR to bloggers so that their fan following also reach out to you. Instagram also provides an option of "shop" where you can buy products without leaving the app. Getting followers on Instagram can also help your business grow.
"You don't need a corporation or a marketing company to brand you now: you can do it yourself. You can establish who you are with a social media following." — Ray Allen, former American professional basketball player
Traveler's foremost choice: Instagram is just a great blessing for the people who loves travelling. Through Instagram they can share pictures and videos of beautiful places they visit. This way they can inspire others to explore beautiful places of their country. And guess what? Ore people will visit the recommended places and this factor can lead to betterment of tourism department of country. The thing that works best here is its geotagging feature. This feature allows you to add the location of the picture. And through the use of hashtags you can also see post of other people at the same place. If you are fan of travelling and needs recommendations, you can just follow travelers on Instagram just like bloggers.
Self-Reinforcement App: One of the biggest advantage of Instagram is that it works as self-reinforcement app. Sharing photos and videos with your long distance friends provides you pleasure. And likes and comments on pictures and videos boosts one's confidence. Your fan following, likes, comments and shares on your posts makes you famous and popular in no time. This actually makes you confident and leads you to a better future. For example: if you have strong fan following different brands approach you and provides you opportunity of modeling, sends you PR packages so that their brand gets advertised by you.
Seamless Integration with Facebook: Instagram shares seamless integration with Facebook which is actually one of the best advantage. You can share pictures and videos from one app to another including your stories. Instagram will also enlist the people who are connected with you on Facebook. You can easily switch from one app to another and this feature isn't available at other social media apps.
Strict Privacy: Instagram provides its user best privacy. It totally depends upon you whether you want to make your profile public or private. If you don't want to make your pictures and videos public Instagram provides you option to make your profile private and it also provide you option to select the list of people with whom you want to share your story. Under their strict privacy policy Instagram provides you option to block and report offensive accounts. Instagram doesn't allow to download photos and videos.
IGTV: IGTV stands for Instagram TV. Initially Instagram allowed its users to post videos with restricted time of 1 minute. But IGTV allows you to post videos of more than 1 minute. Isn't it a great feature that you can share videos of your events with your loved ones? IGTV has taken Instagram to a new level. You can find funny videos, makeup tutorials, trailers of new movies, motivational videos on Instagram and Instagram also provides you option to mention your friends in comment section so that they can also enjoy and chit chat with you. Now you don't have to go to YouTube to watch make up tutorials of your favorite bloggers. You can just follow them and watch everything on IGTV.
Business Profile: Instagram provides you opportunity to flourish your business or brand. You can create Instagram business profile so that audience can directly contact with you. Business profiles come along with a "Contact" button. This button allows users to email, view your location and call you. There's also a button of "Message" that allows users to directly message you asking about the product. You can also have the option to embed links to your stories if you have more than 10,000 followers.
Also check out:
 Cons (Disadvantages) Of Instagram
Addictive: Social media addiction is nothing new. Like every other social media app Instagram is also addictive. We are just glued to our cell phones using these apps and are doing nothing just scrolling and scrolling. Toxic addiction is affecting majority of people using social media apps including Instagram. This addiction is doing more harm than good. People are becoming lazy and always try to find alternate to some physical thing e.g; online shopping. Young generation is mostly wasting their time scrolling what other people are posting and what other people are doing.
Advertisements: Excess of everything is bad and this phrase is so damn true when it comes to advertisements on Instagram. Instagram provides everyone opportunity to advertise their business but these advertisements and sponsored posts are creating unnecessary mess. Literally after few posts advertisements pops up which are really annoying. Everything looks good when it is done in limit and these annoying ads are just making Instagram bore. And this is one of the biggest drawback of Instagram.
Promote Fake Life: Instagram is promoting fake life culture. People are adopting fake life style just to gain followers. They struggle a lot just because they want to show off how well settled and luxury life they are living. People who follow them wants to be just like them and have a life style similar to them which isn't possible. So, this show off living style is creating unnecessary complex among youngsters. People need to understand the fact that everything that they see on Instagram isn't real. Some people just like to fake themselves but always remember "All that glitters is not gold"
Lack of Confidence: While Instagram boosts one's confidence similarly Instagram may cause lack of confidence. Everyone wants to be as popular as other people in their surroundings. But life doesn't work same for all. When people don't get enough likes and comments on their posts despite being working hard they feel discouraged. And negative comments from others works as cherry on the top. Because of all these things their confidence is shattered and they feel dishearten. So the biggest con of Instagram is that youth is focusing more on making themselves popular while doing less in their practical life.
Devalues Art of Photography: While posting pictures with Instagram filters everyone is calling himself a professional photographer. Filters are actually devaluing the art of photography. With just one click of mobile and applying unlimited number of filters you are not becoming a professional photographer.
Conclusion:
No doubt Instagram is one of the most famous social app which comes with many pros and cons. But it depends upon a person how well he use the app. Whether he is wasting his time by just scrolling and watching what other people are posting. Or he is looking for some ideas related to his interest just for a limited time. It's in our own hands how well we use the app.