Before understanding what nationalism is, we must know what a nation is?
A nation is a large, and by large we mean huge group of people who share the same culture, language (sometimes religion) and they inhabit a state or particular land.
Nationalism is an ideology, which can be defined as an interest among the nation, which aims at the gains of a nation and guards the sovereignty.
In easy words, nationalism is a sense among nationals that their nation is the best one among all the nations on this planet.
You must be thinking by now that the concept of nationalism sounds a lot like patriotism. Yes, it does, but it is the extreme form of patriotism followed by the feelings of superiority.
Nationalism gives birth to devotion among the nationals.
Nationalism takes root in almost every nation, so think about all the nations in this world and how each one of them thinks, they are the best nation on the face of Earth.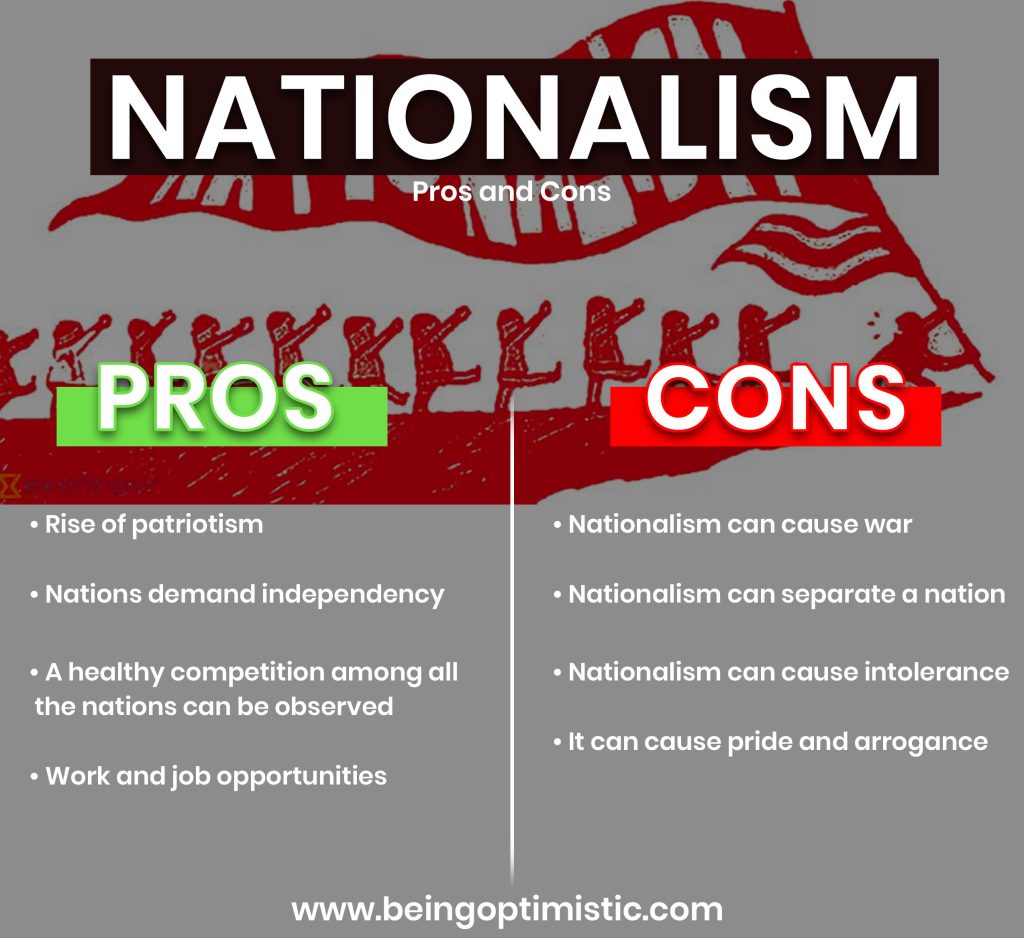 Karl Marx said,
"Nationalism is a temporary phase, and it would vanish".
You may or may not agree with this quote, as years have passed and nationalism is still there, although the world is becoming a global village.
There are some variants of nationalism too,
Liberal Nationalism is also called European nationalism, it says that like every individual, nations also have their own rights.
Expansionist Nationalism is associated with Mussolini and Hitler, they were aggressive and brutal towards other nations. It is about the hysterically intensifying of sentiments.
Anti-colonial nationalism also called a third-world nationalism. After the World War II, many nations revolted against colonies like Indo-Pak 1947, China 1949 and many others. It is a referral to those events when some nations stood firmly for their rights against the colonies.
Pros of Nationalism
Nationalism has its roots in the patriotism. Individuals who are patriotic and love their nation support nationalism. It will not be wrong to say that nationalism is the superlative degree of patriotism.
Nations demand independency
As we observed in the anti-colonial nationalism, the sense of patriotism makes sure that the land, state and the nation itself is safe from the invaders. No other state or nation can invade another nation or colonize it because there is a great threat of the nationalists' strong reaction.
A healthy competition among all the nations can be observed
Nationalism is a point of view of an individual that his nation is the best among all, and he will do anything to prove it. Now apply this to all the individuals who are forming a nation. They as a whole will try their best to compete with others. It creates a healthy competition and increases the productivity.
Work and job opportunities
Nationalism creates job opportunities, as the globalization does. As we discussed that people individually and together take part in the progress of their nation to prove to the entire human race that their country and nation is best, eventually creating productivity. When people work hard to make progress, they knowingly or unknowingly create more jobs. Which makes the entire environment kind of ideal to live in, where there is unity and everyone is working for a better future for their nation.
If you want to differentiate nationalism & communism, read our blog on communism, it will help you.
Cons of Nationalism
Nationalism can cause war
We are talking about the expansionist nationalism. When nationalism in a nation is too aggressive and nationals start to think only they are good and others should either obey them or not exist. It leads to wars, invasions and oppression. If this happens, all the pros of nationalism go in vain because every invasion and oppression is a crime to humanity.
Nationalism can separate a nation
We live in a world, where if one nation is unjust to the other, it will have to face the consequences. There are a lot of human right organizations that can implement constraints, seize the funding accounts and can take a lot more actions to separate a nation. Which eventually becomes a danger to the sovereignty of a nation, to the productivity of the nationals and to the trade business which is considered the backbone of any nation's economy.
Nationalism can cause intolerance
As we already discussed that nationalism happens at the level of an individual. And the whole nation shares the same sentiments. It can cause extreme hatred among different ethnics, religions and races. Intolerance among nationals can create anarchy and chaos on mass levels.
It can cause pride and arrogance
Nationalism is based on the view that "my nation is the best", which leads its way to pride and arrogance. It can cause negative attitude as it is the fierce form of patriotism. Everything when comes to excessive levels creates a lot of issues. Nationalism eventually makes those people's life a living hell who were not among the ruling party making decisions and were only taking pride in their nation.
Final Words
To summarize the complete discussion, we can say that nationalism were there even when there were no nations. People were so in love with their territories, even when the nations and countries were not found. It is good when it comes to defend your country and your rights, but it quickly becomes a bad thing when you usurp any other nation's right.
Our readers' feedback is important to us, comment below to let use know what you think about the concept of nationalism.
Happy Reading!!