Tired of thinking how to not care what people think of you? No matter how much confident we are, how strong our personality is, how broad our views are, we are all haunted by the sentence "What other people might think of us" at some points of our life.
This thought not only affects our personality but also shatters our confidence so much that before doing anything we always consider opinion of others about us. It is rooted in human nature that we want to show our talents, our personality, our achievements to people around us but the actual problem starts when we start depending upon opinion of others about us.
How to Not Care What People Think of You
"Care about what other people think and you will always be their prisoner." – Lao Tzu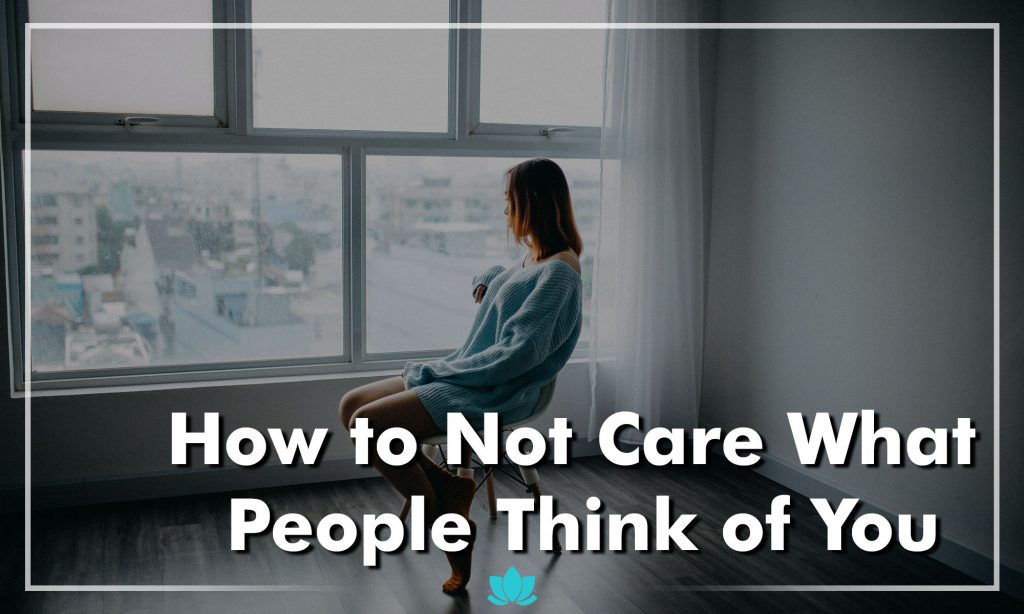 We live in a world where most decisions of our life depend upon what other people think of us. Each and every step we take, each and every decision we make, the first thing that comes to our mind is that what other people will think about us.
We are clearly becoming dependent upon opinion of others about us more than we depend upon ourselves. Before getting ready for any occasion we often don't think whether this dress will look good on us, the only thought comes to our mind  is that whether other people will praise us or not in this dress, whether this dress suitable for the occasion or not, or what other people will think about my dress. What people will say if I join dance academy, what other people will think of my job and my salary or what people might think if I choose art as my career.
This is definitely not a healthy way of living a life, we begin to adapt lifestyle of other people to meet their requirements or expectations, because we are human beings and the need to be accepted by others lies in our nature. We shouldn't let any person ruin peace of our life with their opinion or remarks about us.
Main reasons why we care about what other people think are:
Fear of judgment (what will people say if I do 'this' or 'that'?)
Habit of pleasing others ( we make most of the decisions just to please others)
Afraid of people's dissatisfaction
Fear of avoidance (what if people start avoiding me because of my job?)
Also check:
What other people think about us shouldn't be our concern. Their thoughts and opinions have nothing to do with us.
In today's world our life is truly ours, it depends upon us how we paint our lives, whether we plant flowers of positivity or negativity in garden of our life, whether we let ourselves to be effected by opinion of others about us, so clearly at the end of the day it is clearly "ourselves" that matters not others. People play both a positive and negative role in the development of one's personality and the wise among us are those who don't let other people ruin their personality, they don't give a damn about what other people might think about them. Such kind of people don't believe in putting themselves in trouble just to please others.
Suppose you are heading a conference or meeting, or you are addressing a gathering, or you are delivering lecture to your students, each and every person sitting in front of you will perceive you, your message and your personality differently.  Some people will love your way of talking, way of delivering message while other will find it mediocre. We can't make everyone happy at same time, also it is none of our business to make each and every person understand what we are trying to say. It completely depend upon them whether they are seeing your message from negative or positive point of view.
Effective Tips on How Not to Care What People Think:
Self-love/self-acceptance: Rule no.1 to overcome any doubt or negativity is to accept yourself. Always try to improve yourself but remember being improved and being changed are two different things. You don't have to put yourself in trouble just to please others. Don't bother yourself to fit in the shoes of others. Know your value and be yourself. Accepting yourself as you are is the first step towards a healthy life. Only you can encourage yourself to leave behind negativity of people, no one is going to do it for you.
Surround yourself with positivity: Second most important point is surround yourself with positivity, with people who are sincere to you. Avoid company of people who are always criticizing, unhappy and narrow minded. They will only demotivate you and won't let you grow confident. Stop asking people what they think of you. Surround yourself with positivity because you don't have to bother about their opinions.
Know that judging others is human nature: People will always judge you no matter what you do for them. Even if you put others first they will take advantage of you, and if you think about yourself first they will simply label you as selfish. So, always keep in mind that it is rooted in human nature to judge others, no matter how perfect a person is people always find a way to criticize him. Don't let other people demotivate you because at the end it is only you that matters.
Believe in yourself: The problem starts when you don't believe in yourself and always consider other people's opinion prior. Their words and thoughts shatter our confidence. Always have a firm faith in yourself. Know that you are enough for yourself. Keep your standard high and believe in your abilities, skills and power. Always remember that what I am doing is best, what I am wearing suits me well, my job is perfect for me. These simple things will boost your confidence and you will see a positive change is your personality.
Let Go Of Perfectionism: Your perfectionism doesn't define your worth and value. When you try to chase perfectionism after hearing judgmental comments of others, you are just being unfair with yourself. Every person has flaws and your flaws and mistakes indicate that you are growing and grooming. So, stop chasing perfectionism and start accepting yourself as perfectionism doesn't assure you a successful life. See our complete guide on how to overcome perfectionism.
Keep in mind that no one really cares: In today's busy world literally no one have enough time to notice each and everything about you. People actually don't care what you are wearing, how you interact, what are your hobbies, in short some people may point out tiny details about these kind of stuff but nobody have enough time to always think about you. Some people may notice what kind of clothes you are wearing at occasion but it'll only last for few seconds to minutes. So, don't bother yourself with the thought what people think about me.
What people say about you is actually reflection of their own personality: This point helps one to overcome the fear of what people think because it is rooted in nature of some people to criticize every person. These kind of people are actually those who are not happy or comfortable with their own life and to divert their attention they find it easy to criticize others. Making others feel uncomfortable gives them pleasure. Basically we can't do anything about such people the only solution is that don't bother what they are saying. Have faith in yourself and keep shining and growing.
Listen to all but always do what you find best for yourself: This is one of the golden point to overcome negativity around you. Know that not every person is your well-wisher. Some people dislike you just because of the way you are, they will criticize you, make you feel little. But the only thing you have to do is listen to everyone but consider the opinion of those who are truly sincere to you. Surround yourself with the people who cheer you at your every success and motivate you when life pushes you down.
You cannot please everybody: One of the biggest flaw in our personality is that we try to please everyone and doing so we put ourselves in trouble. You cannot make everyone happy or satisfied no matter how much you do for them. Some people will always find a way to point our little mistakes. Some people will find your personality attractive while some will criticize you for being you. Not everyone can perceive what you are trying to convey. Know that it is not our duty to please everyone.
Conclusion:
So in the end we can conclude that for a healthy life and shining personality we have to let go of the thought what people think. Always keep yourself positive and in every criticizing comment try to find a way out to how not to care what people think. Because at the end of the day only you can make yourself successful. No one is going to do it for you. People always point out other's mistakes because that is the only thing they are best at. So, there is no need at all to care what people think.