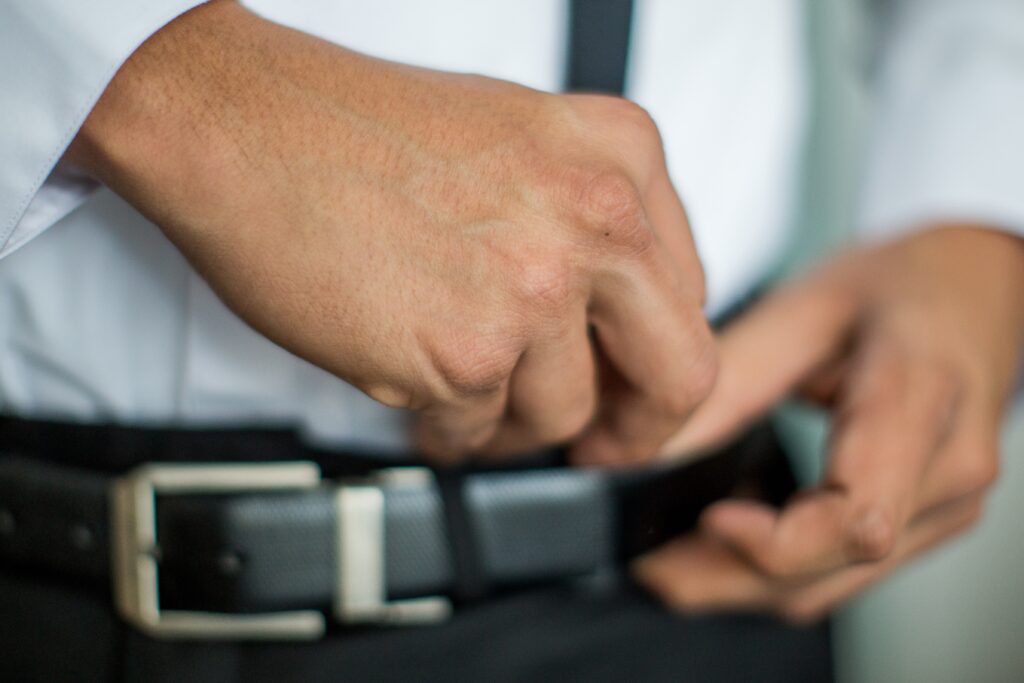 Introduction
In the world of men's fashion, accessories are the key to elevating your style and adding a personal touch to your outfits. Among these accessories, mens belts stand out as a functional and fashionable choice. While belts primarily serve the purpose of holding up your pants, they can be so much more than just a practical accessory. With a bit of creativity and flair, you can transform your men's belt into a statement piece that enhances your look. In this article, you will explore various creative ways to style men's belts, allowing you to add a touch of uniqueness and personality to your ensemble.
1. The Tucked-In Shirt with Statement Belt
One of the easiest ways to showcase your stylish belt is by tucking in your shirt. Whether it's a dress shirt or a casual button-down, tucking it in allows the belt to take centre stage. Opt for a statement belt with a unique buckle or eye-catching design to make a bold impression. This look works well for formal and casual occasions, adding an extra touch of flair to your outfit.
2. Monochromatic Style with a Pop of Colour
For a sleek and modern look, try incorporating a pop of colour into your monochromatic ensemble with a vibrant belt. If you're wearing neutral colours like black, white, or grey, a colourful belt can instantly add interest and personality to your outfit. Opt for a belt in a bold hue like red, blue, or green to create a striking contrast that catches the eye.
3. The Belt as a Waist Accessory
Take a cue from high-fashion runways and use your men's belt as a waist accessory. This styling technique involves wearing the belt slightly higher on your waist than usual, creating a cinched effect and accentuating your waistline. It works particularly well with tailored blazers, long coats, or even over a lightweight cardigan. This unique approach adds a touch of sophistication and elegance to your overall look.
4. Double Up with Double-Buckle Belts
Double-buckle belts are an edgy and fashionable choice for those looking to make a statement. These belts feature two buckles side by side, creating a bold and eye-catching design. Pair a double-buckle belt with a simple outfit to let the accessory shine. This style works exceptionally well with jeans, leather pants, or even tailored trousers, adding an element of urban chic to your attire.
5. Cinch Your Waist with a Belted Blazer
Transform your blazer into a fashion-forward statement by adding a belt to cinch your waist. This styling trick is perfect for oversized blazers or loose-fitting jackets, as it creates a more tailored and structured silhouette. Use a slim belt with a sleek buckle to keep the focus on the blazer's shape and cut. This stylish combination effortlessly combines classic and contemporary elements for a polished and fashion-forward look.
6. The Belted Cardigan
For a relaxed and cosy look, try belting a cardigan with a textured or woven belt. This adds a touch of bohemian charm to your outfit while defining your waistline. Choose a belt that complements the colour of your cardigan and experiment with different patterns and textures for a more eclectic vibe.
7. The Belt as a Necktie Replacement
For a truly unique and unconventional approach, use your men's belt as a necktie replacement. This bold styling choice works best with open-collar shirts or crew-neck sweaters. Simply wrap the belt around your neck, leaving the buckle in the front or side for an artistic and avant-garde look. This daring style is sure to turn heads and spark conversations.
Conclusion
Mens belts are more than just functional accessories; they are opportunities for self-expression and creativity. By experimenting with different styles, colours, and techniques, you can turn your men's belt into a statement piece that elevates your entire outfit. Whether you're opting for a classic leather belt, a double-buckle design, or a pop of color, the key is to have fun and explore various ways to style your belt with flair. Embrace the versatility of men's belts and make a fashion statement that reflects your unique personality and style.