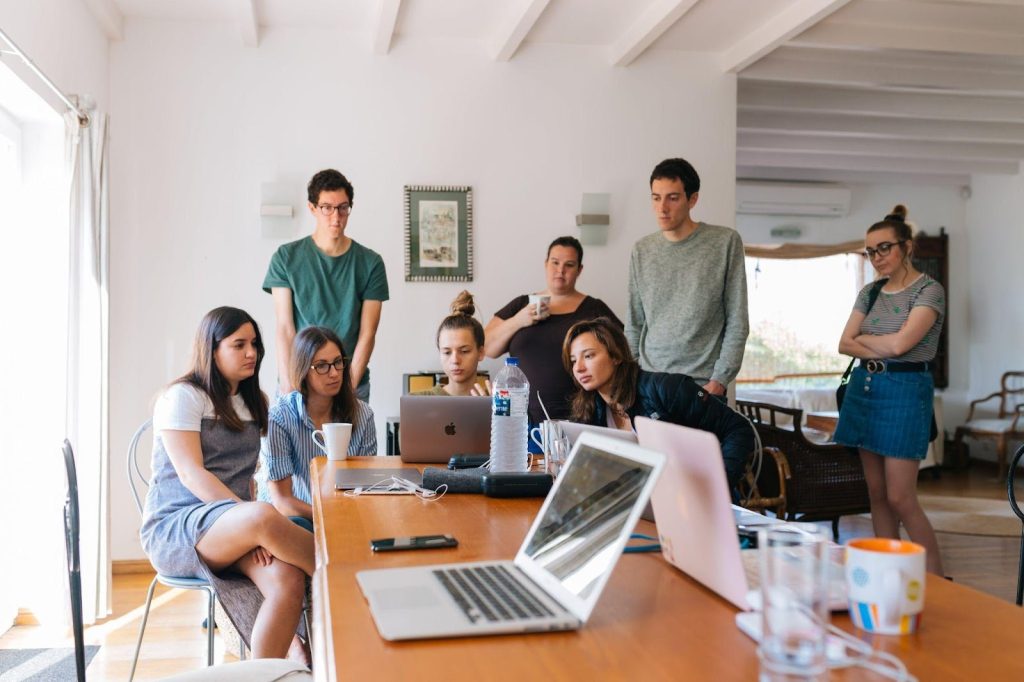 In a world where markets are saturated and competition is fierce, businesses are under constant pressure to differentiate themselves.
Standing out in a crowded marketplace is essential, not just for attracting customers but for establishing a brand identity that resonates with your audience. It's about creating a unique value proposition that distinguishes your enterprise from the rest.
Through targeted strategies, you can create a presence that not only catches the eye but also holds attention long enough to convert curiosity into loyalty.
Define Your Unique Selling Proposition
Your business needs to stand out, and the key to that is your unique selling proposition (USP). Think about what you offer that others don't. It might be something fresh and inventive that no one else has thought of, or it could be your approach to customer service that leaves people talking.
It could even be a new take on solving an old problem. Whatever it is, it's the thing that makes a customer stop and think, "Yes, this is the right choice for me."
Once you've got a handle on what that is, put it front and center in how you talk about your business. Let it lead your conversations and your advertising.
Leverage Visual Branding Elements
Different visual elements like colors, fonts, and logos all play a part in telling your brand's story. Now, imagine being able to achieve a professional look without the expense of hiring a designer. That's where stock photos come into play.
They are a resourceful way to enhance your visual branding without starting from zero. You can select from a myriad of stock vectors and illustrations that align with your message, ensuring your audience gets your point at a glance.
Prioritize Customer Service Excellence
Offering top-notch customer service is essential for any business aiming to rise above the competition. It's all about how you handle your customers' needs and problems. Quick responses to questions or concerns show that you're attentive and ready to help.
But it's more than just solving problems fast. It's about the extra steps you take. It's in the details, like knowing your customers by name or remembering their preferences, that you show you're paying attention.
Adopt a Socially Responsible Approach
In today's market, being a business that cares about more than just profits goes a long way. People prefer to buy from companies that are doing good for the world.
This could mean using environmentally friendly materials or being involved in community projects. When you run your business in a way that's mindful of its impact, you not only do good, but you also show your customers that you share their values.
Create Content That Adds Value
When you create content, think about what will really help your audience. What can you tell them that they haven't heard before? How can you help solve their problems? This is the core of good content marketing.
For example, writing blog posts that answer common questions in your industry or explaining how to do something can show that you know your stuff. This doesn't just draw people to your website; it makes them see you as a trusted expert.
The aim is to give them information that they can use, which makes them more likely to turn to you when they need services or products that you offer.
Invest in Employee Development
Investing in your employees is investing in the heart of your business. When they grow, your company grows. Provide training that helps them hone their skills and knowledge.
This isn't just about making them better at their jobs; it's about giving them the tools to shine. When they interact with customers, their competence becomes your company's reputation.
People can tell when an employee is well-versed and enthusiastic about their work, and it makes a strong impression. It's this level of confidence from your staff that can draw in customers and keep them coming back.
Engage With Your Community
Getting involved with your local community is a great way to connect with your customers on a deeper level. It's not just about selling something; it's about showing you're part of what's happening around you.
Whether it's sponsoring a little league team, joining in on a charity event, or hosting a workshop, these actions show that you care about more than just business. People remember this kind of involvement.
It shows you're willing to support and grow with the community. This can lead to lasting relationships where people don't just see you as a store or service but as a neighbor and a friend.
Embrace Technological Innovation
Today, technology is at the core of many successful businesses. Keeping up with the latest tech can give you a big edge. Think about a website that loads quickly and is easy to use or an app where customers can find what they need without any hassle.
Even the way people pay for things has changed, with options like mobile payments or one-click purchases making it easier than ever. When you make these technologies part of your business, you make life simpler for your customers.
They'll appreciate the smooth experience, and a happy customer is more likely to be a repeat customer. Plus, being known for using modern tech can make your business look cutting-edge and professional.
Offer a Personalized Experience
Personalization is about using what you know — like past purchases or viewed items — to suggest other products your customers might like or to tailor your emails to their interests. When customers feel like you're paying attention to their specific likes and needs, they feel valued.
And when they feel valued, they're more likely to keep coming back. With technology today, it's easier than ever to track customer preferences and use that information to enhance their shopping experience.
Conclusion
Making your business stand out involves a blend of strategies. Define what's unique about your brand, harness the power of visuals, and deliver stellar customer service.
Embrace social responsibility and offer value through your content. Engage with the community, invest in your team, innovate with technology, and personalize the customer experience. Each step builds your identity and connects with people.