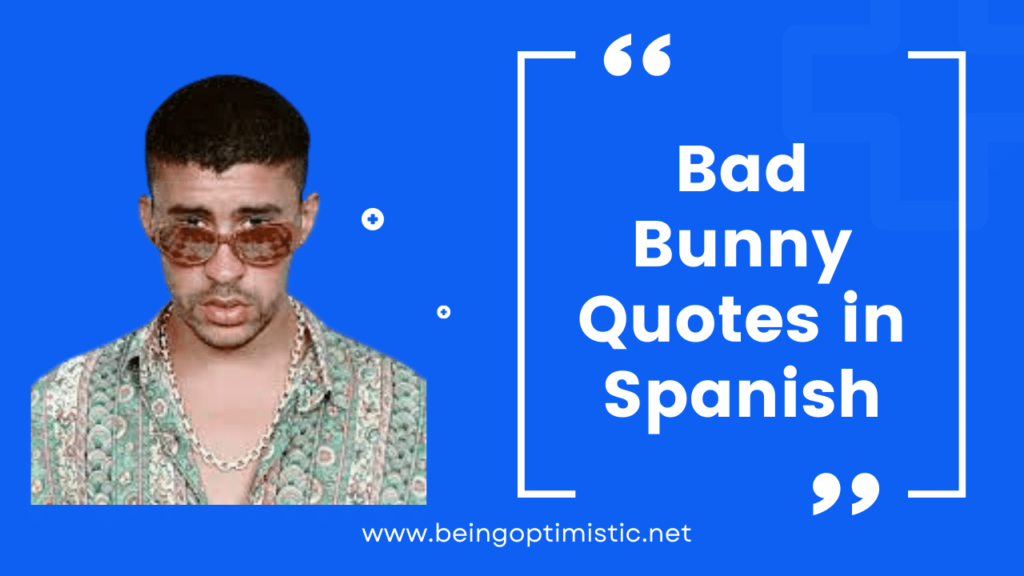 Bad Bunny, born as Benito Antonio Martínez Ocasio, is not just a Grammy-winning Latin trap and reggaeton artist; he's a global sensation. With his music, he has not only pushed boundaries and brought Latin music to the forefront but also shared his wisdom, resilience, and positivity through his words. In this article, we'll explore the Top 30 Inspiring Bad Bunny Quotes in Spanish that have moved, motivated, and connected with fans worldwide. These quotes are sure to evoke emotions, stir your soul, and offer glimpses into his transformative journey.
Bad Bunny Quotes in Spanish: An Overview
Before we delve into the quotes, let's get a brief introduction to the man himself. Bad Bunny, who hails from Puerto Rico, rose to fame due to his distinct style and unconventional approach towards music. Known for his deep, slurred vocal style and eclectic fashion sense, Bad Bunny has emerged as a symbol of individuality and creativity. His journey from a supermarket bagger to a global music icon is nothing short of inspiring.
Top 30 Bad Bunny Quotes in Spanish
Let's explore the top 30 quotes from Bad Bunny, a testament to his resilience, wisdom, and infectious positivity.
Yo hago lo que me de la gana. ( I do whatever I want )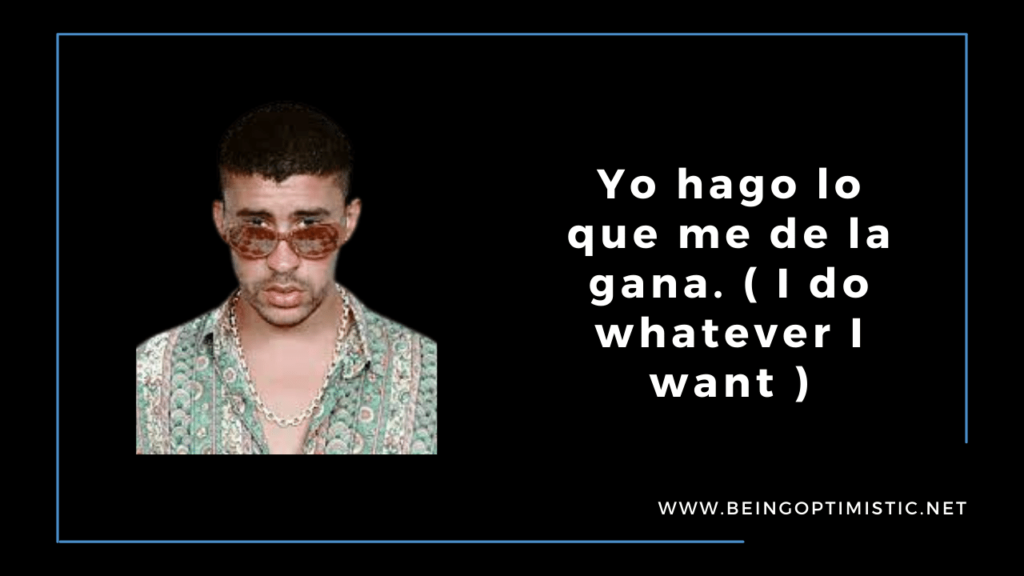 La Noche de Anoche ( all night last night )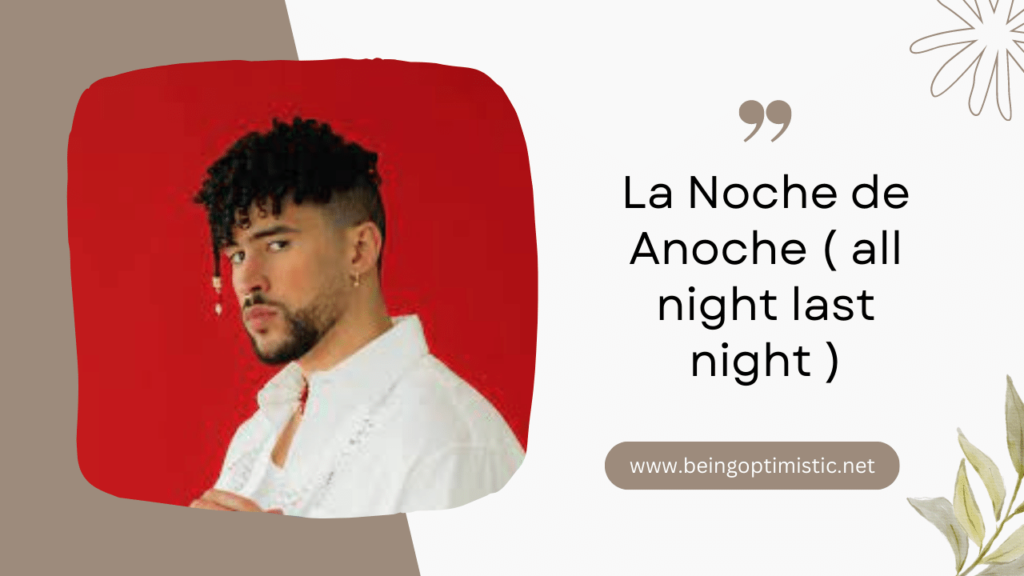 Yo no soy tuyo ni de nadie, yo soy solo de mí. ( I'm not yours or anyone's, I'm only for myself )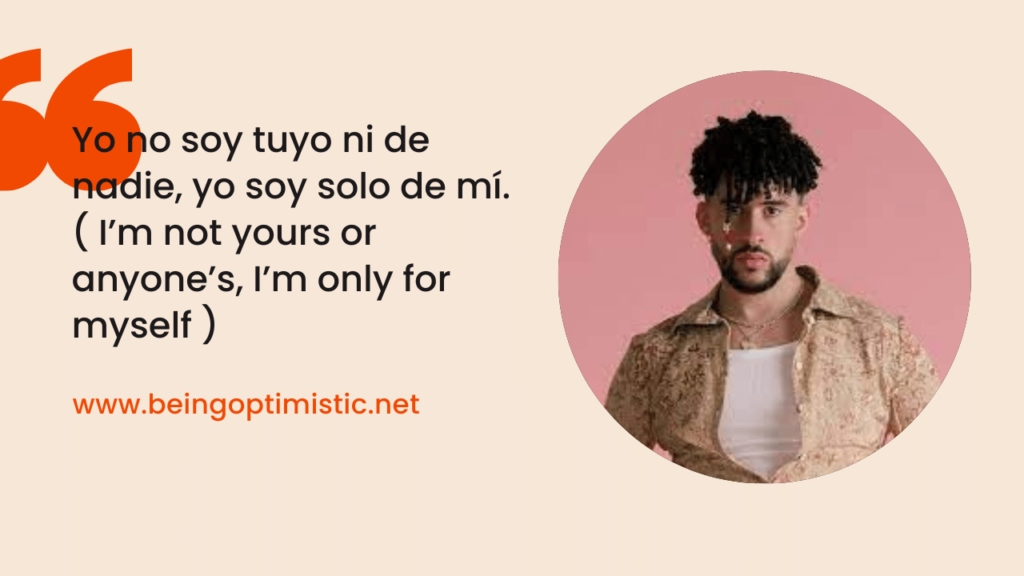 Con tú alma es la que yo conecto (Your soul is the one I connect with)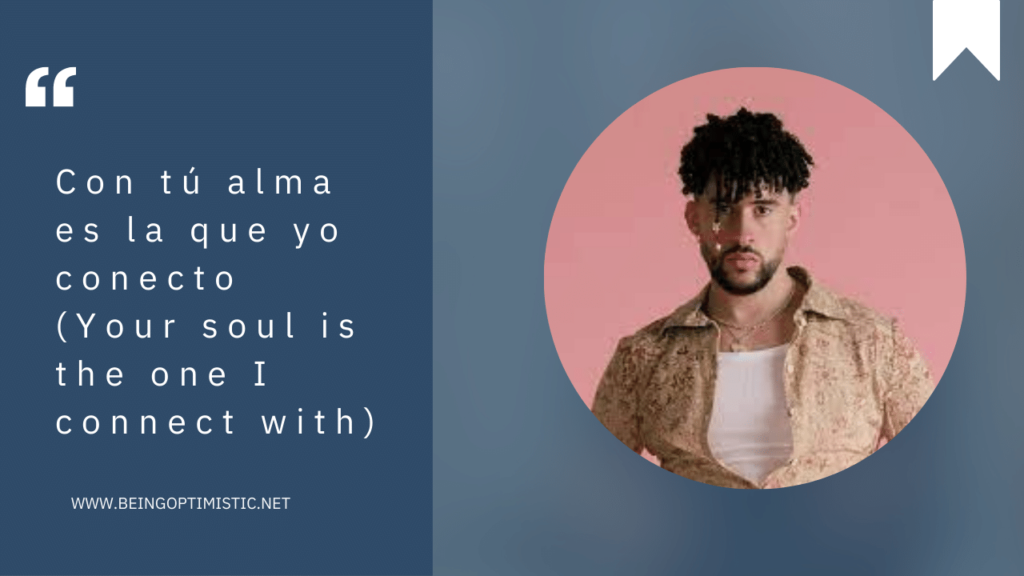 El DM explotao', to's le escriben "hola" ( DM's blowing up, they all tеxt her "Hello")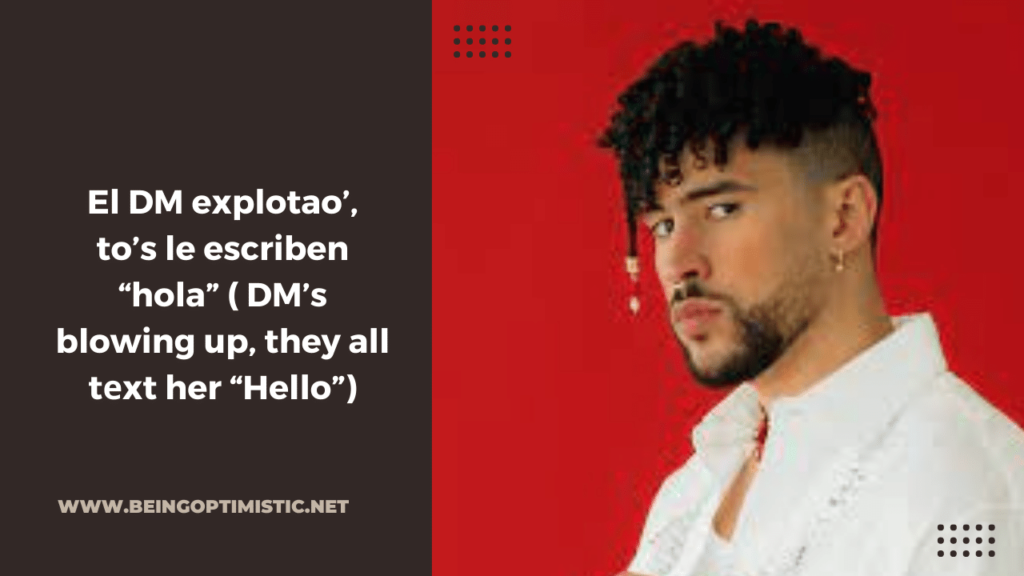 Me importan mucha' cosa' Pero tu opinión no está en esa lista. ( I care about lots of things, but your opinion isn't on that list.)
El corazón lo puso en la neverita. (She put her heart in the fridge)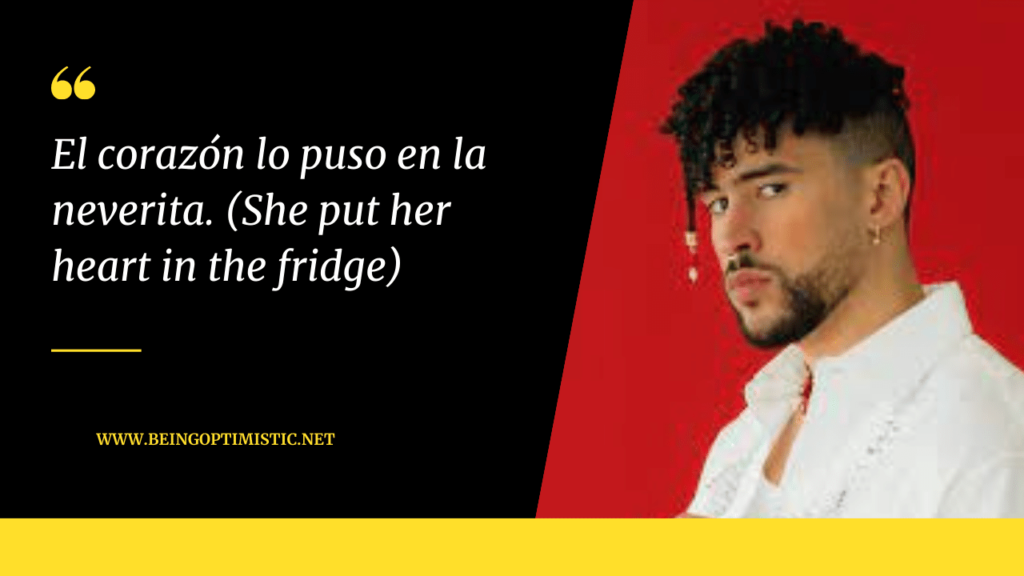 Te toco y hasta el mundo deja de girar. ( I touch you, and the world stops spinning )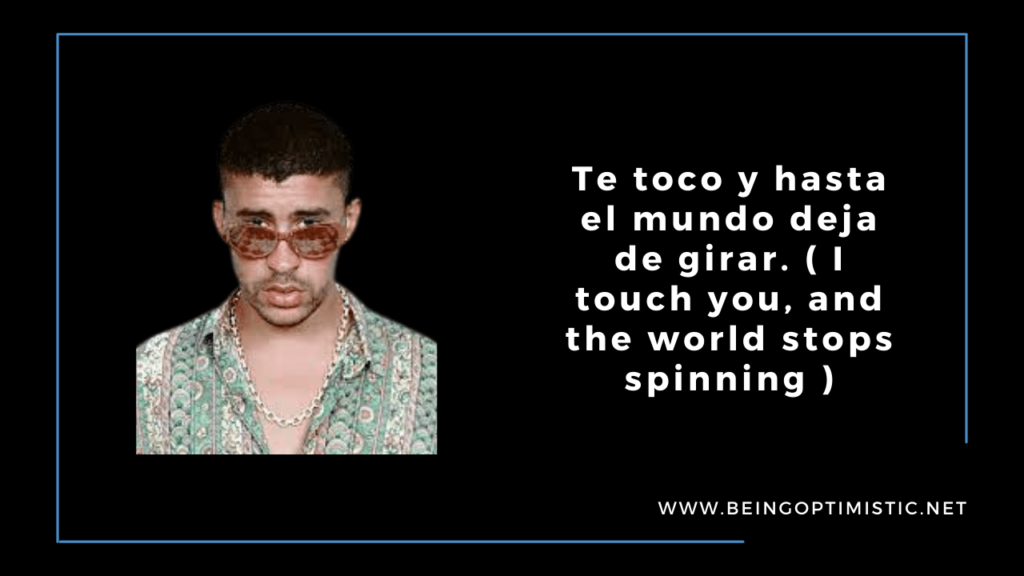 Amores vienen y van, como las ola'. ( Lovers come and go, like the waves)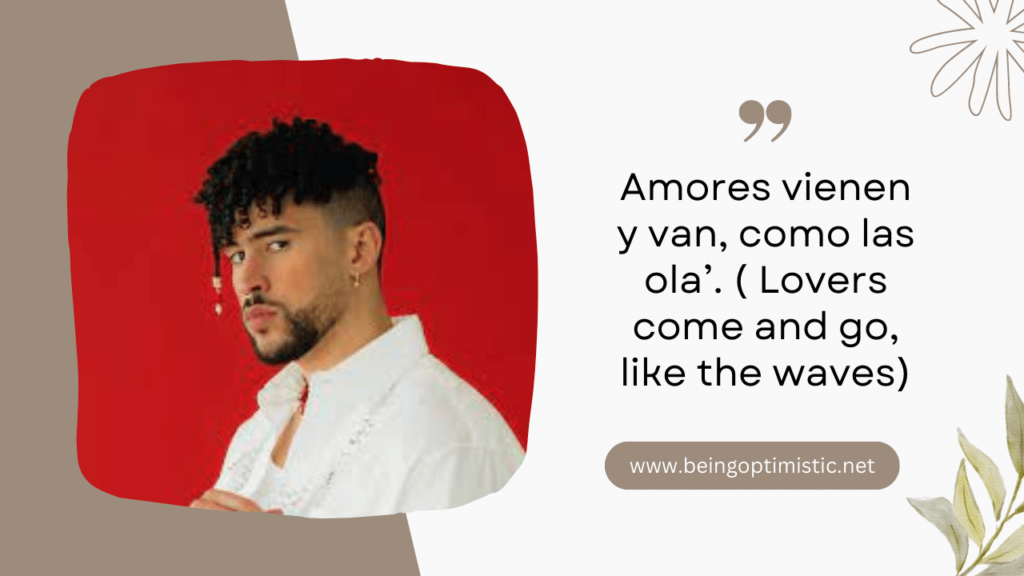 Vamo' a tirarno' un selfie, say "cheese". (Let's take a selfie, say "cheese")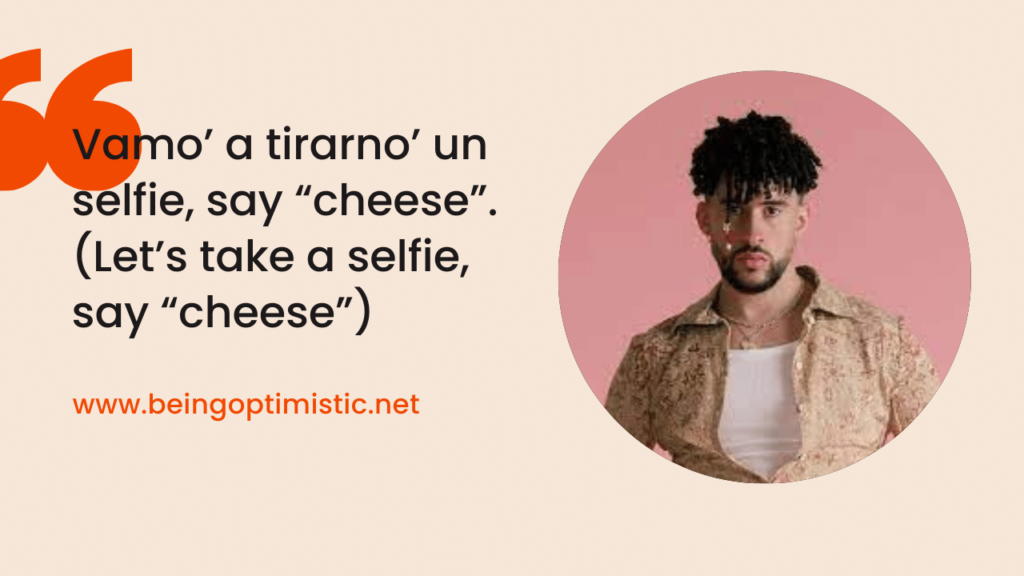 Bebé, yo soy fan de tu caminar. (Babe, I'm a fan of the way you walk)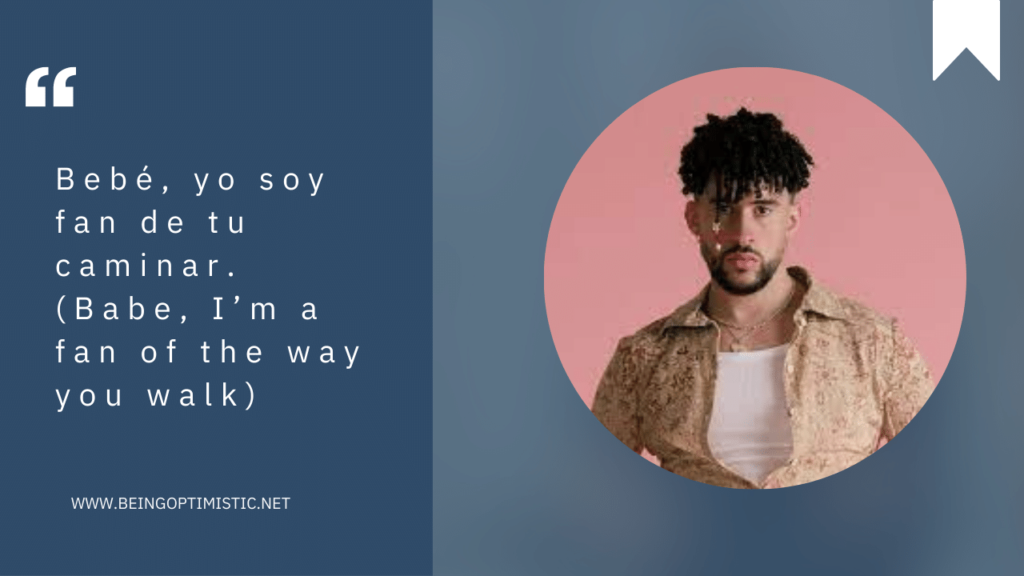 Bebé, yo soy tuyo na' más (Babe, I'm yours and that's it)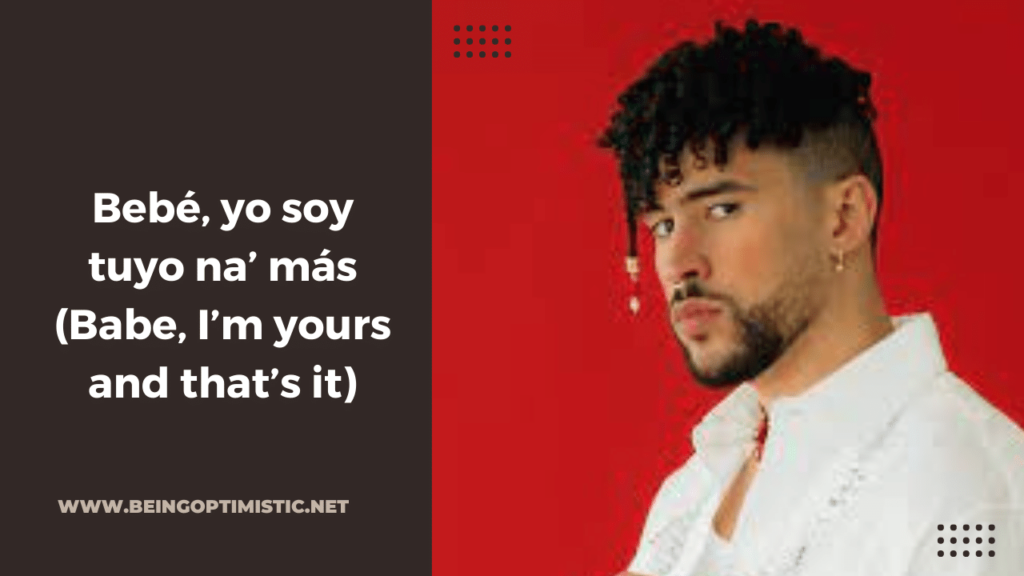 Lo que tú me pidas, bebé. (Anything you want, baby)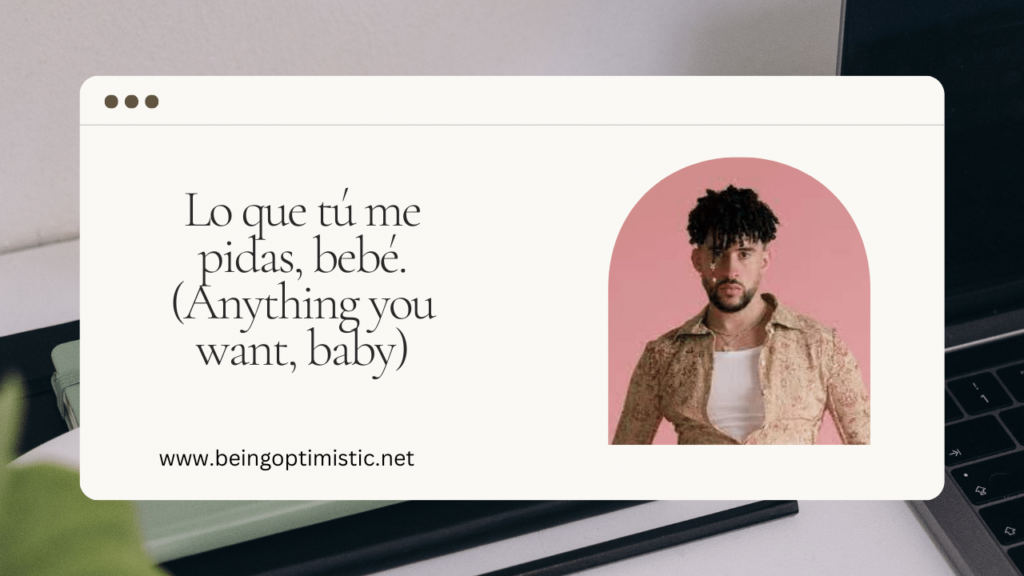 El orgullo del barrio (The pride of the neighborhood )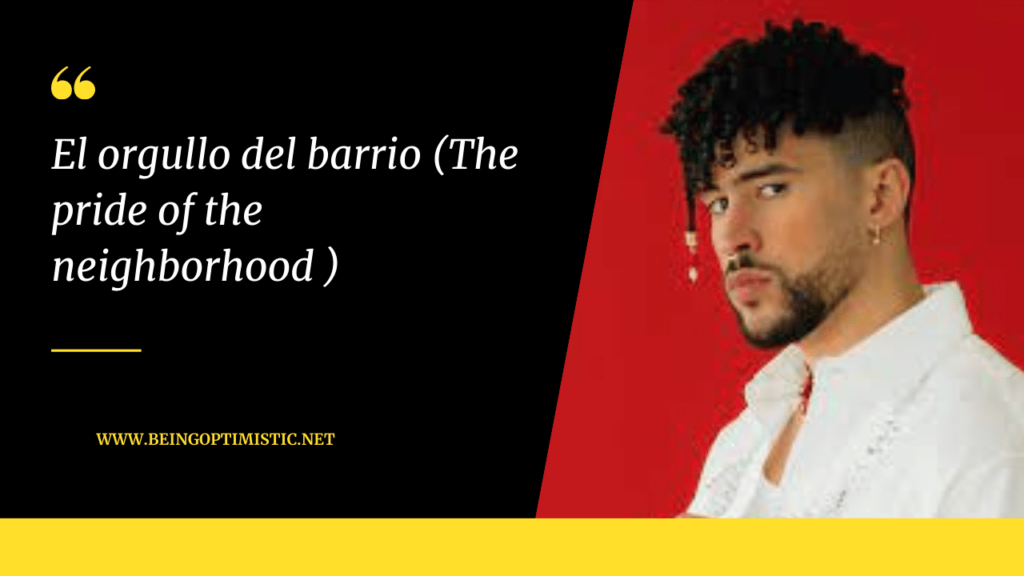 Mi corazón no es de arena, pero tú 'tás dejando tus huella (My heart isn't made of sand, but you're leaving footprints )
Yo quiero ver contigo el amanecer (I want to see the sunrise with you)
Tú y yo solito', y el sol. (Me and you alone and the sun)
Tanto' consejos de amor que yo he dado Pero parece que en mí no funcionan.  So many love advices that I have given But they don't seem to work on me.
Picante, picante como un habanero. Spicy, spicy like a habanero 
Baby, la vida e' un ciclo, Y lo que no sirve yo no lo reciclo. Baby life is a cycle, and what does not serve I do not recycle.
Baby, vamo' a hacerlo bajo las estrella. Baby, let's do it under the stars.
Vamo' a pasarla bien. Let's have a good time.
Pero todo se ha complicado como si ser mujer fuera un pecado. But everything has been complicated as if being a woman were a sin.
Lo nuestro se acabó y no hay vuelta atrás. What we had is over and there's no going back.
Solo comparto memes, ya yo no escribo nada. I only share memes, I don't write anything anymore.
Un infeliz en el amor, que aún no te super. An unhappy man in love that still can't forget you.
Si pudiera te pidiera que devuelvas todos los besos que te di. If I could I'd ask you to give back all the kisses I gave you.
Why Are Bad Bunny's Quotes So Impactful?
Bad Bunny's quotes aren't just catchy phrases; they encapsulate his life philosophy, his struggles, victories, and his undying spirit. They showcase his belief in the power of dreams, hard work, resilience, and authenticity.
Understanding the Impact of Bad Bunny Quotes in Spanish
Bad Bunny's quotes extend beyond mere words, touching the realms of life lessons and timeless wisdom. His statements encapsulate his journey from humble beginnings to a renowned artist, carrying a raw, authentic resonance that endears him to fans worldwide. His words, often embedded in his songs, serve as a reminder of his determination, resilience, and unwavering spirit.
The Resilience in His Quotes
Bad Bunny's quotes often highlight resilience as a recurring theme. This resilience is visible in his journey, marked by hurdles and triumphs, and reflects in his music and words. His quotes, like "El éxito no es casualidad. Es trabajo duro, perseverancia, aprendizaje, estudio, sacrificio y, sobre todo, amor por lo que estás haciendo," meaning "Success is no accident. It's hard work, perseverance, learning, studying, sacrifice, and most of all, love for what you're doing," inspire millions to stay resilient in the face of challenges.
The Wisdom in His Quotes
Wisdom is another dominant element in Bad Bunny's quotes. From his thoughts on music's power to his reflections on dreams and goals, his quotes radiate profound wisdom. For instance, his quote, "La música es el único arma que puede cambiar el mundo," which translates to "Music is the only weapon that can change the world," resonates deeply with his fans and fellow musicians, reminding them of music's transformative power.
The Positivity in His Quotes
Despite the struggles and challenges he's faced, Bad Bunny's quotes radiate infectious positivity. His words encourage his fans to stay positive, work hard, and pursue their dreams, no matter the obstacles. His quote, "Si tienes un sueño, tienes que protegerlo," meaning "If you have a dream, you have to protect it," embodies this spirit of positivity and unwavering faith in one's dreams.
Conclusion
Bad Bunny's inspiring words serve as a beacon of hope and motivation for his fans worldwide. Bad Bunny Quotes in Spanish, deeply rooted in his experiences, showcase his resilience, wisdom, and unwavering belief in his journey. Whether you're a fan of his music or simply looking for some inspiration, these quotes are sure to ignite a spark within you.
Also Read: 50+ Best Minnie Mouse Quotes
Frequently Asked Questions
Q1: Who is Bad Bunny?
Bad Bunny, born as Benito Antonio Martínez Ocasio, is a Grammy-winning Latin trap and reggaeton artist from Puerto Rico.
Q2: What kind of music does Bad Bunny make?
Bad Bunny is known for his Latin trap and reggaeton music. His unique style and creative approach have earned him global recognition.
Q3: What language does Bad Bunny sing in?
Bad Bunny primarily sings in Spanish. His quotes are also predominantly in Spanish, reflecting his cultural heritage.