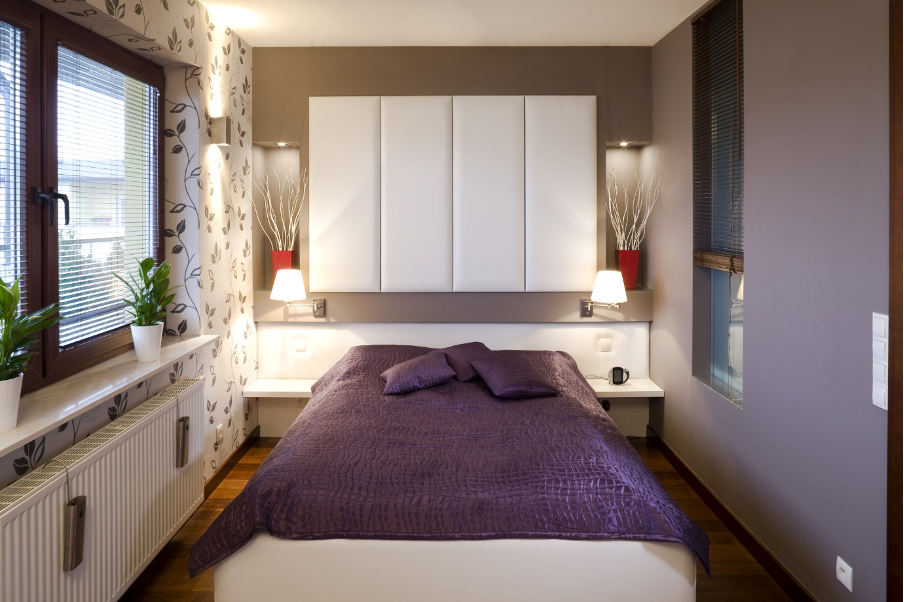 The International Residential Code, or IRC, states requirements for the size of a bedroom. It can vary from state to state. However, for the most part, a true bedroom is 70 square feet of floor space at the least, with one direction having at least seven feet.
A bedroom is an important part of your living space, and you will spend a lot of time there, including sleeping. This is where you keep your most valued possessions to get you through each day, but what do you do with small bedrooms?
If you are looking to make your small bedroom light up and open up, here are the top bedroom makeover tips to help you achieve it.
Maintain a Simple Layout
At first, you may feel like all you really want to do is wave a magic wand. If you wave your hand with the rod, then poof! The bedroom design will suddenly appear.
Planning the layout for small bedrooms is no magic trick.
Of all the small bedroom ideas you can consider, start with the placement of the bed frame. This is a critical part of how to give yourself optimal space. Do not place the bed in the corner of the room, at an angle, or in the middle of the room.
Place the bed frame against one wall but leave room on both sides of the headrest and footboard. This will help you maximize space.
However, a wall bed can give you even more space during the day. Check out the Murphy bed buying guide to learn more.
Add Multi-Purpose Furniture
When you have less space, you need to find a way to reduce furniture. However, you can use your furniture for more than one purpose. This is a brilliant way to make simple home upgrades.
One example would be combining a vanity and a desk. You can place a desk or table that you can use for both.
Replace Nightstands With Nesting Tables
When you add a nesting table to your bedroom style, you save on space. You get more out of it than a standard nightstand. Take up less space when you stack nesting tables.
Not only that, but you still get a surface to put your alarm clock, lamp, books, and more that you like having next to your bed.
Use Wall Space
Large and small bedrooms alike can enjoy home improvement ideas like this. If you want to cut the clutter from the floor, take advantage of the space on the wall. Cabinets and dressers can help.
Use the space above and next to your bed. You can get very creative with the wall space and add a great bedroom style to your functionality.
Hanging Clothes Rack
Some small bedrooms can lack closets. You still hang your clothes. Hanging clothes racks can help.
This also adds some sizzle to your bedroom style and keeps your wardrobe free of wrinkles. Not only that, but you can easily find the clothes you are looking for. Meanwhile, you can make it look decorative, adding to the natural appeal of small bedrooms.
Light Colors
What would a bedroom makeover be like if you did not add new paint? You want to open up the room and maximize space for small bedrooms. Therefore, light colors are best.
Light colors reflect light better. Moreso than dark colors. This helps the walls feel like they measure further apart than they do.
It tricks the eyes into thinking the room is larger. The ideal colors to paint your small bedroom include beiges, whites, soft pinks, light blues, and yellows.
Mirrors
This is a simple way to enhance the bedroom style, making it appear larger. Add a hanging mirror or standing mirror. You could even attach it to the back of a door.
The mirror's reflection can make a bedroom appear taller and wider.
Hanging Lamps
If you lack enough space for a floor lamp or nightstand but need to add light, hanging lamps are a great choice. The lighting fixture itself makes the bedroom style even more dazzling. This is a popular route for home upgrades.
Hanging lamps can make the light cover a greater area, achieving this while also staying out of the way.
Floor to Ceiling Curtains
This opens up small bedrooms because they make the walls feel longer. You can use this bedroom design for window covering. However, you could also try this to hide the closet.
Curtains are a tactic to stretch the room. Your ceiling will likely feel like it is higher up than it actually is.
Plants to Add Life
Hanging plants or potted plants will make small bedrooms come alive. It adds some necessary green. However, when adding plants for a bedroom makeover, less is more.
Too much green can make you feel like you have left the United States and entered a faraway jungle.
The Beauty of Small Bedrooms
With some strategy and the right amount of planning, it's easy to make small bedrooms rock! Consider the placement of your bed, using multi-purpose furniture, hanging clothes racks, light colors, and hanging lamps. This will make your bedroom the most desirable room you enter all day.
We publish daily articles on life, fashion, health, sports, and much more. Is something else on your mind other than your small bedroom? We can help.
Don't bounce. Keep clicking for more advice to enhance your life and brighten your day.