Being in a long distance relationship is somehow beautiful and fascinating to many, yet it remains painful for those who are in a long distance relation. Let me explain to you how a long distance relation works. You feel the depth of the love of someone, so close to your heart yet they are a thousand miles apart from you physically.
The point is, distance does not measure the intensity of love and we all free to love beyond boundaries. So, if you are in a long distance relationship, you are very lucky!
Having someone so close to your heart, who takes care of your everything by staying at your side yet not physically there but heartily and mentally. It is much better to have someone in your life who loves you unconditionally, without the desire of meeting daily instead of someone who is there with you but don't respect you. To me, love is all about having respect for each other, if there is no respect in a relationship, that's not a relationship it's just a materialistic commitment or lust.
What is a Long Distance Relationship?
As it shows, when two people are in a relationship or let's say in easy words in love with each other from different cities or countries, their relation is known as long distance relationship. Since, they are living at distance yet in love with each other, share a bond of a couple.
Usually, it happens over the internet and starts from there and further goes with a commitment of being with each other good and worst until they will meet for the lifetime. Its something that excites most of us, having someone in your life that knows each and everything about you living in another city or country. Thought of meeting or marrying the love of your life can give blossoms in your stomach.
People who are in a long distance relationship are the happiest and share a cute bond of love and affection with each other.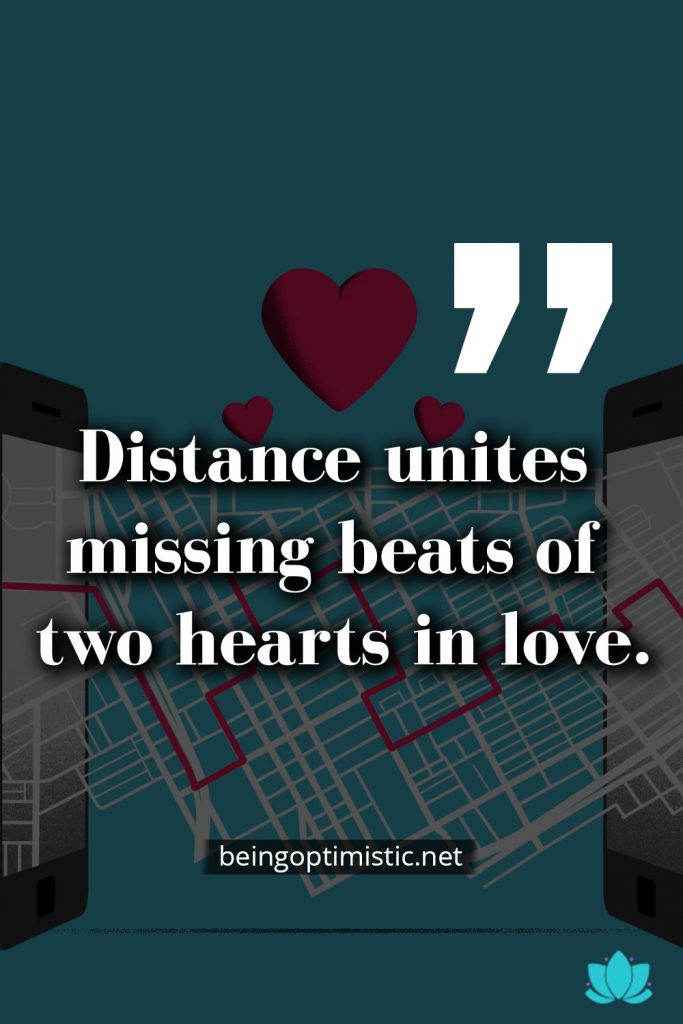 Starting a Long Distance Relationship
Well, if you are starting a long distance relationship you are very lucky to have someone to start with. Remember, it feels so beautiful to be loved by someone either long-distance or not. You just have to be very clear about yourself while starting a long distance relationship. Many will wonder why do we have to be clear? See, its not something that you are going to meet that person every day and it is not possible even in a long distance relationship. They will believe completely on what you tell them about yourself and this is where you have to be very clear if you really love that person. Because faking anything may benefit you for a short period of time but things go worse when you hide something especially in a long distance relationship. So, please be very clear about yourself when you are all set to start a long distance relationship.
Long Distance Relationship Quotes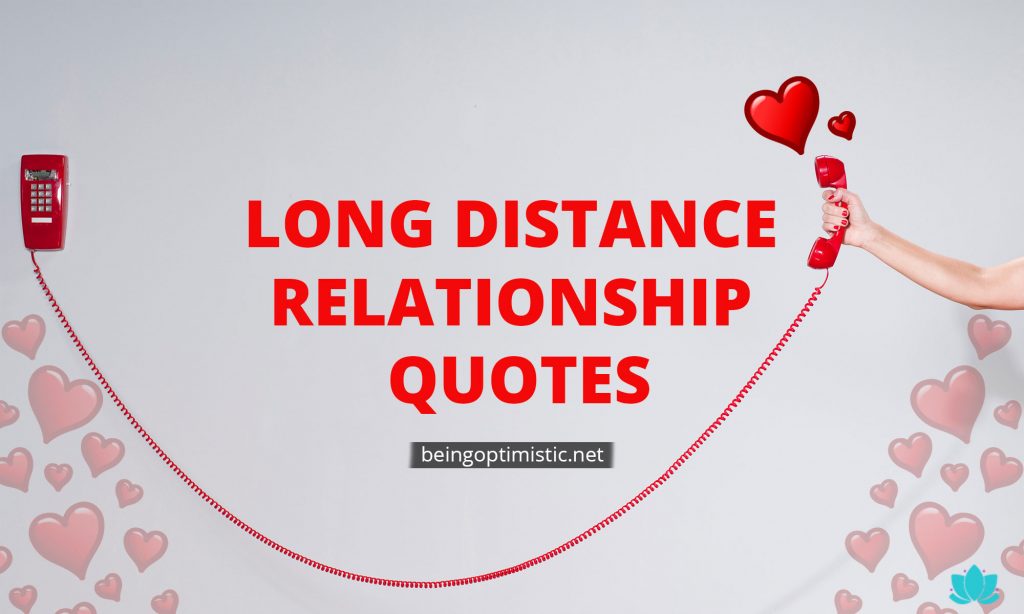 If you are committed to someone who is not there with you physically, you must be craving to make them feel special every day by having some long distance relationship quotes. Because, why not? Everyone wants affection and to be loved. These long-distance relationship quotes maybe a tinnier thing in your relationship but they can be a pillar of love in your relationship. By sharing these quotes, you show the person that you love them, you care about them and respect them and this is all a person needs in their love life.
Trust me, these little steps can take you both afar in the meadows of love and respect. Here we have jotted down a number of heavy long distance relationship quotes that will be going to add a spice of love and honey of respect.
Don't believe it? Give it a try!
"That farewell kiss which resembles greeting, that last glance of love which becomes the sharpest pang of sorrow."

George Eliot

"I exist in two places, here and where you are."

Margaret Atwood

"As contraries are known by contraries, so is the delights of presence best known by the torments of absence."

Alcibiades

"I carry your heart with me (I carry it in my heart)."

E.E. Cummings

"Absence is to love what wind is to fire; It extinguishes the small, it inflames the great."

Roger de Bussy-Rabutin

"In true love, the smallest distance is too great and the greatest distance can be bridged."
"Love will travel as far as you let it. It has no limits."

Dee King

"Absence makes the heart grow fonder, but it sure makes the rest of you lonely."

Charles M. Schulz

"Ever has it been that love knows not its own depth until the hour of separation."
"I don't cry because we've been separated by distance, and for a matter of years. Why? Because for as long as we share the same sky and breathe the same air, we're still together."
"Our lives were now worlds apart, separated by time, circumstance, and the unbridgeable chasm of money."
"Absence is to love as wind is to fire; it extinguishes the small and kindles the great."
"And as days go by, the memories remain. I wait for you. As days go by I swear I'll try. Until I die. Anything for you."
"We are the perfect couple, we're just not in the perfect situation."
"The pain of parting is nothing to the joy of meeting again."
"If the only place where I could see you were in my dreams, I'd sleep forever."
"The few hours I spend with you are worth the thousand hours I spend without you."
"How lucky I am to have something that makes saying goodbye so hard."
"Love reckons hours for months, and days for years and every little absence is an age."

John Dryden

"Distance unites missing beats of two hearts in love."

Munia Khan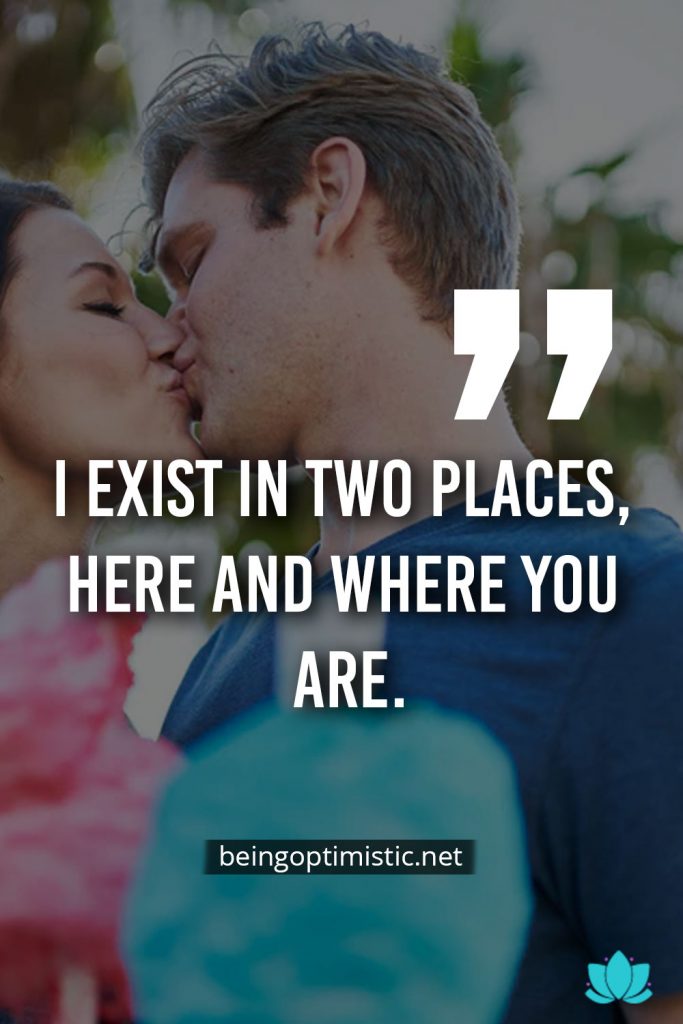 Also check:
Surviving Long Distance Relationship Quotes
Be it a long distance relationship or not, the survival stance of any relationship is the toughest part and if you survive that time, you are going to have a soulmate, a person who will love you all of your life. See, life is a series of journeys and we all are travelers of it. Not everyone is blessed with good-enough tools to have a perfect journey of your life.
We all have different stories and we all go through the worst and perfect. So, it's pretty normal and obvious to get tired of each other, or not getting loved like you used to be. But, it does not mean that you should walk away from that relationship. Especially in a long distance relationship you will have to compromise on a lot of things because things are not like they are in a short distance relationship. Many times, you will have to sacrifice your happiness for the love of your life and it's pretty fine because what is your partner, it's yours eventually. Here we have some of the best Surviving long distance relationship quotes that will definitely bring a new and positive change in your relationship. The key to surviving a long-distance relationship is too be consistent and to not to give up, that's it!
"My heart is your home, wherever in the world you are – you will always have a place to stay." – K.A. Hill
"Missing someone can hurt. But when you know they are yours forever, negativity it helps avert." – Trishna Damodar
"Maybe it's a good idea to write something about you in my book… At least then, there will be a place where we will meet everyday… and be together forever!" – Anamika Mishra
"Maybe, I thought, it's not the distance that's the problem, but how you handle it." – Dash
"I found that I missed him the more he was absent from my life, and the more I missed him, the more I loved him."  – Donna Lynn Hope
"I know we loved each other, but distance can do strange things to people and before I was willing to tell you about it, I wanted to be certain that it would last" – Nicholas Sparks
"You're too far for my hands to hold you, but too near for my heart to love you." – Heraline
"If you found that one person who is really worth the sacrifices, pain, and hardships then your efforts will not go to waste." – Anna Agoncillo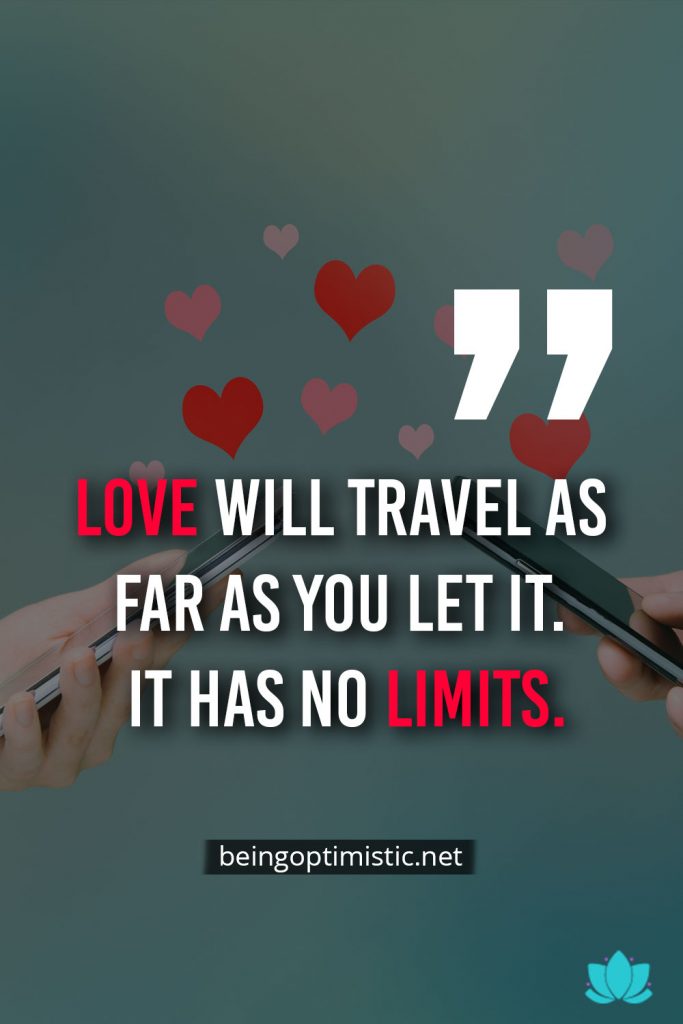 Want to message him/her because you are out of words? Or maybe not sure how to start a convo?
I can totally relate to it. Nothing bad in it and its human nature to go out words because you have said a lot or maybe said it all. Let me make it easier for you, I have collected some of the best long distance relationship messages that will definitely help you to start a convo, or to break the silence.
Funny Long Distance Relationship Quotes
Having good humor is a gift from God and not many have it sadly. But, good humor plays an important role in keep going with a relation. Are you the one with the good humor? Or maybe your partner? NO? well, you don't have to worry at all because we have got your back.
Having a funny convo by using funny long distance relationship quotes is a hell of a fun and can swing the mood of your partner. So why not use them? Use them to give a healthy touch to your long distance relationship.
"You are invited to delight me with a surprise visit during the long weekend. If you don't, I will drive to you and kick your butt."
"Falling in love with you was a clear case of hit and run. Cupid hit my heart with an arrow while you ran away to some strange and distant land. Get back so that I can punish you properly."
"I Miss You Like A Fat Girl Misses Cookies."
"Long distance relationships: Great for birth control. Not so great for simultaneous orgasms."
"Aw, your boyfriend's at work, and you miss him? That's cute. Try being in a long distance relationship and get back to me."
"We are most alive when we're in love."
"A Love is composed of a single soul inhabiting two bodies."
"There is always some madness in love. But there is also always some reason in madness."
"Have enough courage to trust love one more time and always one more time."
"A successful relationship requires falling in love many times, always with the same person."
"Love is a game that two can play and both can win."
"When someone loves you, the way they say your name is different. You know that your name is safe in their mouth."
"True love is not a hide and seeks game: in true love, both lovers seek each other."
"Love always cures people — both the ones who give it and the ones who receive it."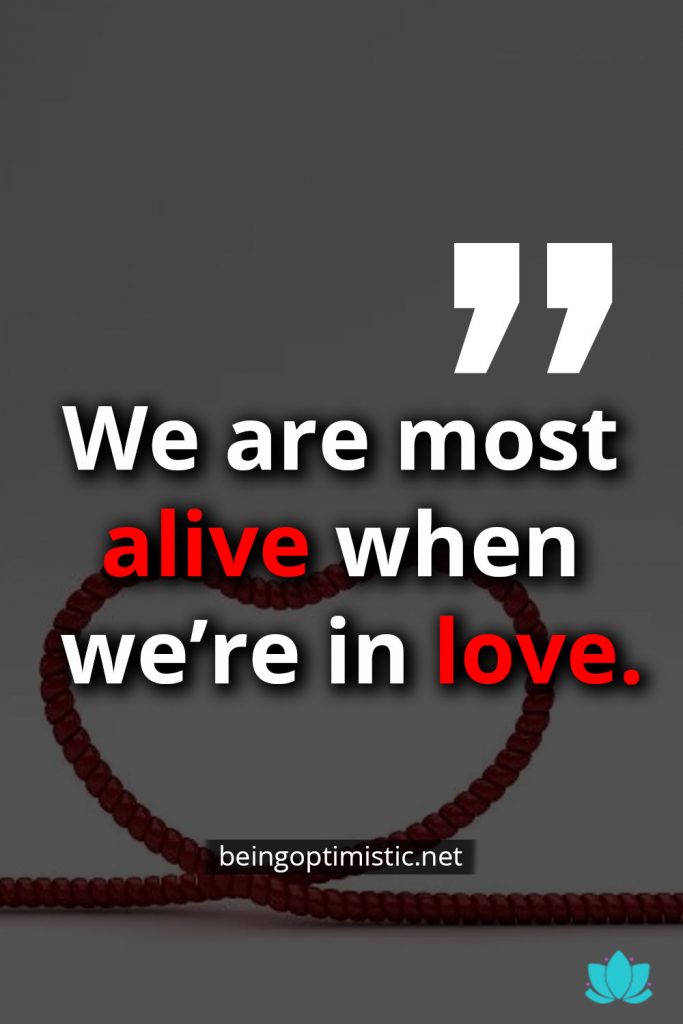 Motivational Quotes for Long Distance Relationships
Motivation to keep a relationship healthy, especially when it's a long distance relationship is a real struggle. People who lack motivation go through some real tough time in their relations and motivation is much needed for both of the partners.
Need some motivation or to motivate your partner?  Here we have some of the best motivational quotes for long distance relationships that can add a new healthy touch to your relationship and that is the need of time for sure. So, use them to motivate yourself or to your partner.
"She affected me, even when she was absent." – Shannon A. Thompson
"The simple lack of her is more to me than others' presence." – Edward Thomas
"Absence sharpens love, presence strengthens it." – Richard Bach
"The best and most beautiful things in the world cannot be seen or even touched. They must be felt with the heart." – Helen Keller
"Absence is to love as wind is to fire; it extinguishes the small and kindles the great." – Roger de Bussy-Rabutin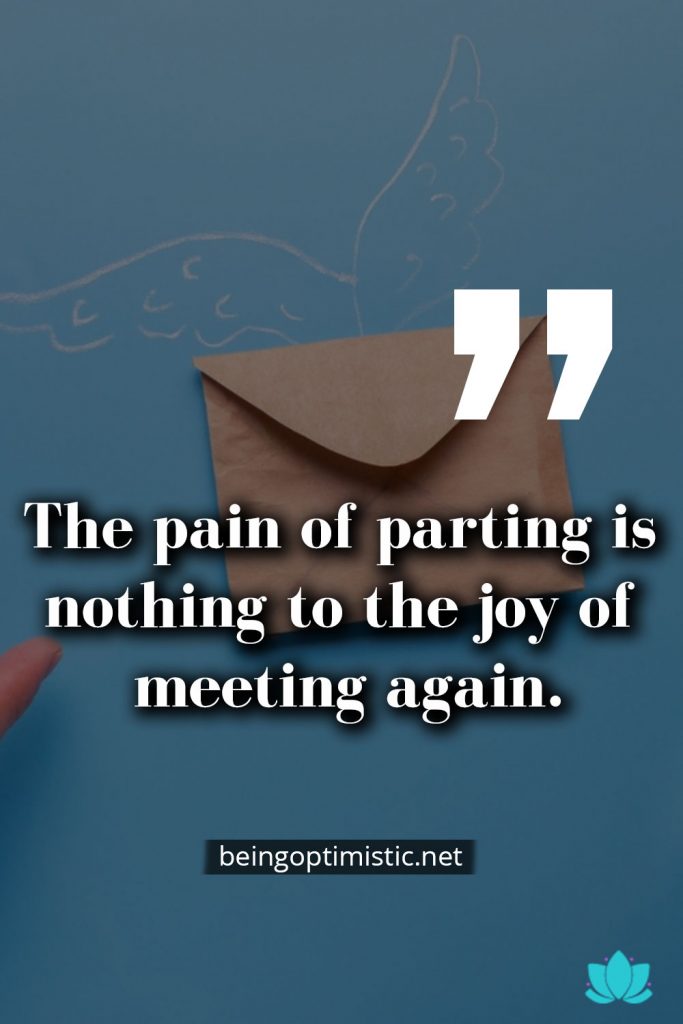 Conclusion:
Share these cute long distance relationship quotes and messages with your loved one and make them feel special by saying it all which you have been hiding. Expressing your love is a great way of showing someone their true value in your life and it always creates respect in the heart of the other person.
Tell us your long distance relationship stories in the comment box, we would love to hear your stories and get a chance to get featured at Being Optimistic.