Engagement rings are normally worn on the fourth finger of the left hand. This finger was selected because it was believed to have a direct connection to the heart. An engagement ring is a beautiful symbolic representation that you are ready to get married.
It's never easy to find the ring that makes you instantly say, "This is the one." Every finger and hand may be made to look beautiful with the right ring style and form, which will also minimize any unattractive features. An engagement ring can be made with whatever stone you want, such as emerald, sapphire, ruby, or topaz. However, the lab created diamond is the most preferred stone now a days.
Different Types of Engagement Ring Styles
Engagement and wedding rings are available in a wide variety of designs and materials. Many couples shop for their wedding and engagement rings together. They, at the very least do some preliminary research together so that they can both get a sense of each other's preferences. There are numerous beautiful designs to pick from.
Couples' preferred styles have changed dramatically during the last century. When you enter a jewelry store, you will see several various designs of classic diamond engagement rings, the Three Stone Engagement Ring, the solitaire engagement ring, the Halo Engagement Ring, cluster, rave, and many more.
For centuries, the solitaire ring designs has been a timeless symbol of love and commitment. Whether you're an on-trend fashionista looking for a unique twist on tradition or more of a classic traditionalist, there are solitaire designs to suit any style and personality. The beauty of this classic style lies in its simplicity — a single diamond set atop a band crafted with fine metals such as gold, silver, or platinum.
From classically plain bands to intricate settings, elegant halos to vintage details, there is something special about the unbeatable sparkle of an exquisite lab grown diamond solitaire engagement ring. So whether you're looking for something extraordinary to express your emotions or just a simple yet timeless design that's sure to last for years to come, the solitaire engagement ring is the ideal choice.
Tips to Find Your Perfect Engagement Ring Style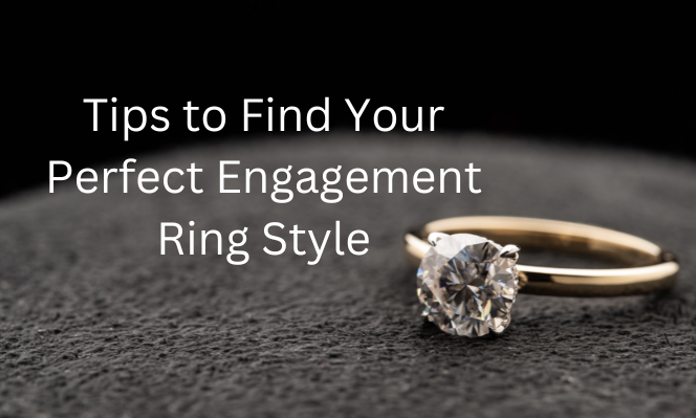 When looking at several ring styles, you may feel as if you have no idea what engagement ring to choose. You'll quickly learn that not every style of engagement ring looks as wonderful on your finger as it does in the display case when you start trying them on. You don't have to try on rings from a display case for hours in order to cut down your options with a little bit of advice.
Choosing an engagement ring is one of the most important and thrilling decisions you will make. But the sheer amount of jewelry out there can be overwhelming.
When choosing for an engagement ring, look for balance between the engagement ring setting and the size and shape of the stone. Consider the lifestyle of your loved one when picking a ring—is he or she more traditional or modern?
Whatever individual style you decide on, a ring should make her feel special, extra-special. And finally, focus on quality and craftsmanship since this is something they will be wearing every day.
● Know the 4Cs
The first piece of advice for purchasing a diamond engagement ring is to be familiar with the four Cs: color, clarity, cut, and carat weight.
To make it simple for you to understand, diamonds are scaled from D to Z. the color of the diamond is assessed and rated. If the diamond is D, it indicates full colorlessness, and Z denotes pale yellow or brown color.
The second C, clarity refers to the absence of blemishes or imperfections in the diamond. The third C stands for cut quality, which determines how well a diamond interacts with light. And finally, the carat defines the visible size and weight of a diamond. The uniqueness and value of a diamond increase with carat weight.
The 4Cs provide a means of comparing diamonds and are the accepted global standard for determining diamond quality. By placing the 4Cs in priority order, you may rapidly remove certain gems from your search and focus on the one that's ideal for you. Knowing which C you are willing to spend more on and which you are willing to sacrifice can also assist you in sticking within your budget.
● Determine Your Ring Size
Even though it might seem apparent, be careful to get your ring fingers accurately measured. Your engagement ring should not block your blood flow or neither should be so loose that it could come off. Instead, it should be fitted but not too tight.
You can visit a jewelry store on your own to get measured if you're not looking for engagement rings together. If you use a ring size chart, selecting the correct ring size is simple. To find the right ring size, all you have to do is measure your finger and compare the measurement to the chart's listing.
● Understand the Various Diamond Cut Styles
You should be aware of the differences between a diamond's shape and cutting style before you begin looking for an engagement ring. When viewed from the top, the shape describes the outline of a diamond. Round diamonds are the most widely used type. However, there are additional shapes, also referred to as fancy shapes, such as the marquise, pear, oval, rectangle, square, and heart.
In addition to shapes, you need to be aware of cutting style. There are two types of cuts: brilliant cut and step cut. The brilliant cut is popular because it increases the shine of a diamond. A variety of shapes, including round, oval, square, and marquise, can have this cut style. Cutting styles, on the other hand, feature long, sleek lines that give them an exquisite, sophisticated sheen. Emerald cuts are well-known step cuts.
● Select the Type of Ring Setting
Choosing your ring setting is a great place to start your search. The setting of a ring controls how the main diamond is positioned and gives the ring its unique appearance. Your setting should represent your personal style, and there are countless possibilities available, from traditional to modern.
A common recommendation is to choose a loose lab created diamond and have it put in a straightforward solitaire setting. Diamond solitaires come in a variety of shapes and fit any price range.
● Choose a Metal for the Band
There are numerous metal types and colors available for your setting. The metal used in a ring not only gives it character but can also improve the appearance of the diamonds it is holding. Platinum, white gold, rose gold, and yellow gold are all common jewelry metals. The properties of gold and platinum differ. Additionally, their hues can alter the way jewelry looks and can affect how gemstones in rings reflect their own colors.
In Closing
Finding the engagement ring of your dreams can be a lot simpler if you keep these ideas in mind. Looking for your perfect engagement ring should be a fun and meaningful process, not a stressful one.
By doing research, setting priorities and exploring all of the creative options available, the search for your dream ring can be an adventure and end with a beautiful symbol of your growing love.
With the right combination of style, symbolism, and design, you'll find the ring that's perfect for you in no time!