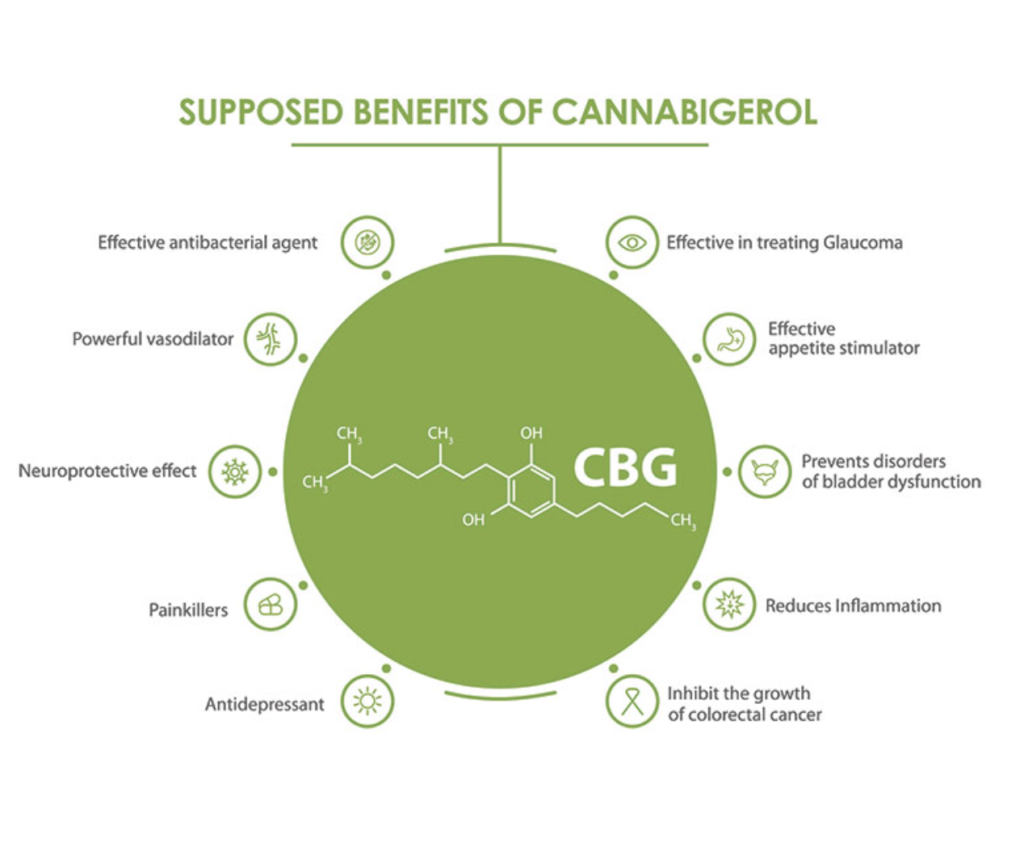 Cannabigerol, or CBG, is a minor cannabinoid with no psychoactive effects. It has been discovered in hemp and, like CBD, may have health advantages.
It is thought to operate by activating PPAR receptors in the body to reduce inflammation in the brain. Moreover, it is believed to build a solid immune system and enhance mental wellness.
Cannabigerol (CBG) is derived from the cannabis plant
Cannabigerol (CBG) is one of the many cannabinoids in the cannabis plant. It is the precursor to the most popular cannabinoids – THC and CBD.
CBG binds to the endocannabinoid system, which is responsible for mood, appetite, pain, sleep, immune function, and more. It interacts with various receptors and neurotransmitters throughout the body, including CB1 and CB2.
The ECS controls many essential functions, such as appetite, pain perception, stress responses, mood, and hormone balance. It is why people often use cannabis to help improve their health and wellness.
However, most cannabis plants only contain trace amounts of CBG. Therefore, it is not as commonly sold in natural products as THC and CBD are. Fortunately, research into this great cannabinoid is ramping up. As such, CBG-based products are gaining popularity among consumers and healthcare professionals. Understanding what CBG does and how to best take advantage of it is essential!
It is a non-psychoactive cannabinoid.
As a non-psychoactive cannabinoid, CBG will not cause to feel high. CBG lacks psychotomimetic qualities, unlike THC, which is well known for its euphoric and intoxicating effects.
It is also a potent anti-inflammatory that can combat inflammation and oxidative stress throughout the body. Its antibacterial properties are also impressive, which can help support the body's ability to fight off pathogens like Staphylococcus and MRSA.
CBG can also help reduce pain and improve mood through its interaction with endocannabinoid receptors in the brain. It makes it an excellent option for those with chronic pain or other disorders related to inflammation and aging.
It is a phytocannabinoid.
CBG is one of the many phytocannabinoids that can be found in cannabis. Like THC and CBD, CBG is a minor cannabinoid produced by the cannabis plant at low levels. During growth, it is transformed into other cannabinoids, including tetrahydrocannabinol (THC) and cannabidiol (CBD).
It is a metabolite of cannabigerol acid, the parent molecule from which all other cannabinoids are synthesized in the cannabis plant. It is present in a small percentage of mature cannabis strains and can be extracted into CBG isolate or distillate as an ingredient in manufactured cannabis products.
CBG is also a great appetite stimulant, which is helpful for patients undergoing chemotherapy. Studies have shown that CBG can increase a lab rat's appetite and help a person with a low need stay hungry when consumed.
It is a terpene.
CBG is a terpene that gives cannabis plants their unique aromas and flavors. In addition to their aromatic qualities, terpenes contribute to cannabis' therapeutic benefits.
The terpenes found in cannabis flowers have different effects depending on the strain and growing conditions, but each has distinct health benefits. For example, Limonene has a fresh, citrusy scent and can help elevate mood, while Linalool is known for its calming properties.
Some companies are reformulating terpenes into consumer goods, such as edibles and vaping oils. The goal is to mimic the flavors and medicinal benefits of cannabis flowers.