Choosing the perfect 3D wallpaper for a child's room is an exciting venture. Not only does it transform the aesthetics of the room, but it also fosters creativity and imagination.
From enchanting fairy-tale scenes to educational world maps, the range of designs is vast. Some of the top picks include:
Animated Wall Graphics: Let your child's favorite characters come to life!
Fantasy-themed Room Decor: Dive into magical realms with dragons or unicorns.
Whimsical Wall Murals: Think of playful forests, spaceships, or undersea adventures.
Interactive Wall Designs: Allow kids to engage with their environment, perhaps a wallpaper they can draw on!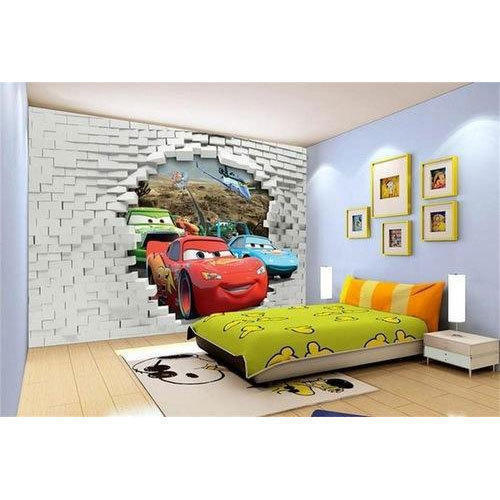 Where Can I Buy Playful 3D Wallpaper for My Child's Bedroom?
Many online retailers and local home decor shops offer a variety of vibrant kids' wallpapers. It's beneficial to request samples to test out in the room before making a final decision.
Online Retailers: Websites like Amazon, eBay, Walmart, and others often have a wide variety of 3D wallpapers for children's bedrooms. Simply search for "3D children's wallpaper" or something similar.
Specialized Wallpaper Stores: Websites that specialize in wallpaper might have a wider and more curated selection. Websites such as WallpaperDirect, Murals Wallpaper, and Wallsauce might offer designs suited for children.
Etsy: This platform has a lot of custom and handcrafted items, including unique 3D wallpapers that you might not find elsewhere.
Local Home Decor Stores: Many home improvement and decor stores carry wallpapers. Check out stores like Lowe's, Home Depot, or local wallpaper or paint stores.
Custom Wallpaper Printers: If you have a particular design or image in mind, there are companies that will print custom wallpapers for you. This could be a fun way to incorporate your child's favorite characters, places, or themes.
Are There Customizable 3D Wallpaper Choices for Children's Rooms?
Yes, some companies offer personalized wallpapers where you can incorporate names, favorite colors, or even unique designs.
Personalized Illustrations: Many companies offer wallpapers that can be personalized with illustrations or characters that resemble the child, their family, or their pets.
Name Incorporation: Some designs allow you to integrate the child's name into the wallpaper pattern, making it a truly personalized space.
Custom Photo Murals: Turn your favorite family photos, holiday snaps, or any image into a large-scale wall mural. This can be especially sentimental, turning memories into room decor.
Custom Themes: If your child has a specific interest or hobby, like a particular sport, animal, or fictional universe, custom designs can be created around that theme.
Can 3D Wallpaper Make a Small Kids' Bedroom Appear Larger?
Certain designs, especially those with a horizon or vanishing point, can create an illusion of depth, making a room appear spacious.
Perspective and Depth: 3D wallpapers designed with a vanishing point or a horizon can give an illusion of depth. For instance, a design that depicts a landscape or a long corridor can make the room seem more extended or spacious.
Light Colors: Lighter shades tend to make a space feel open and airy. Using a 3D design in soft, light colors can amplify this effect.
Vertical Patterns: Vertical lines or patterns can make the ceilings appear higher. Consider designs with tall trees, skyscrapers, or vertical geometric shapes.
What's the Average Cost of 3D Wallpaper Installation in a Children's Room?
Prices vary based on design complexity and brand. It's wise to compare options and read reviews before purchasing.
Type of Wallpaper: There are various types of 3D wallpapers, from simple printed patterns to ones with tactile textures or interactive features. Generally, the more intricate the design and material, the higher the cost.
Quality: High-quality wallpapers, which might last longer and offer better visuals, tend to be more expensive.
Room Size: The larger the room, the more wallpaper you'll need, which will increase the cost.
Location: Prices can differ based on geographic location. Installation in urban areas or regions with a high cost of living might be pricier than in other areas.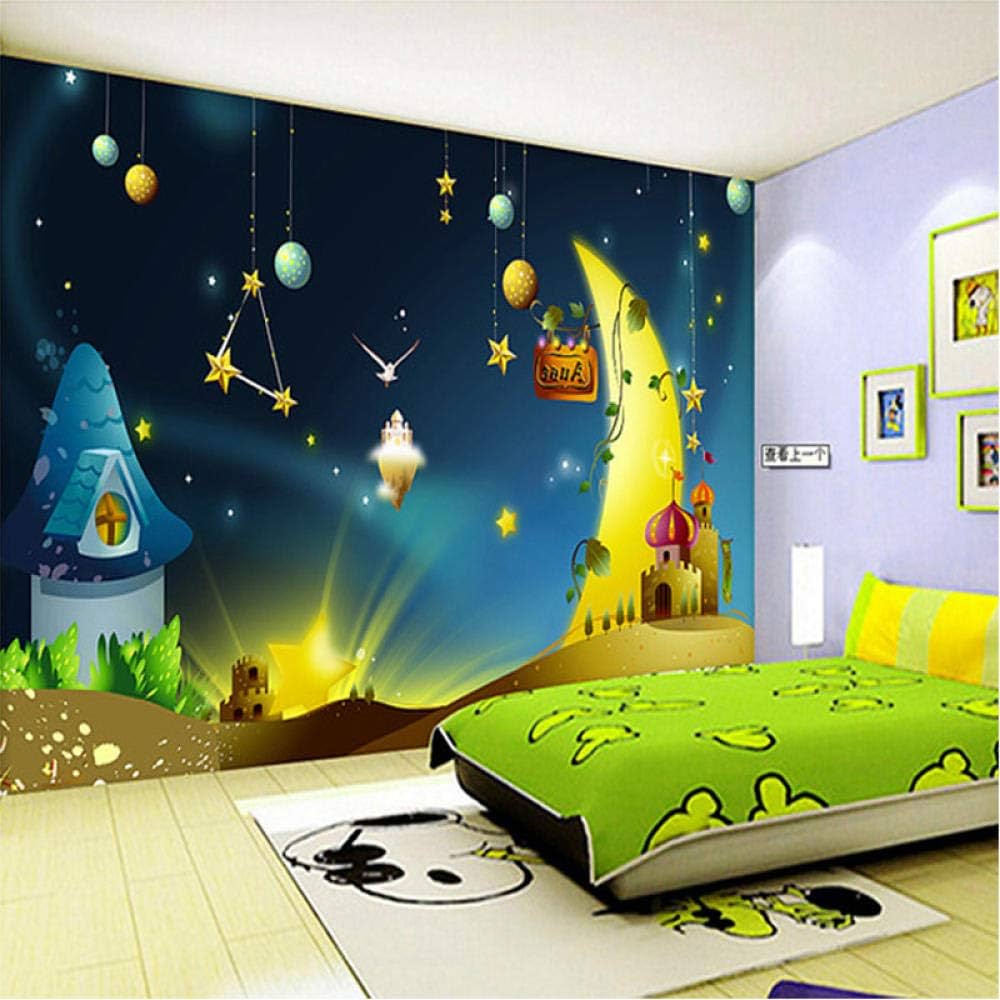 Can 3D Wallpaper Help Create a Sensory-rich Environment for Kids?
Kid-friendly interior design focuses on stimulating multiple senses. Textured or interactive wallpapers add depth and tactile elements, enhancing the sensory experience.
Visual Stimulation:

Depth and Perspective: 3D wallpapers give an illusion of depth and can help children develop spatial awareness.
Color and Patterns: Bright and varied colors or patterns can capture children's attention and foster visual exploration.

Tactile Exploration:

Texture and Material: Some 3D wallpapers come with varied textures that kids can feel. These textures can be soft, rough, bumpy, or silky, offering a tactile experience.
Interactive Wallpapers: There are 3D wallpapers designed to be touched, with pop-out elements, fluffy surfaces, or even sequins that change color when swiped.

Auditory Stimulation:

While wallpapers themselves might not make sounds, you can complement them with sound elements. For instance, a 3D forest wallpaper can be paired with sound machines that produce nature sounds, enhancing the sensory-rich atmosphere.
What are Some Trending Colors for 3D Wallpaper in Children's Rooms?
Pastel shades, neon accents, and earthy tones are trending. However, the choice largely depends on personal preference.
Pastel Tones: Soft, muted shades continue to be popular for creating calming spaces. Think about:

Pastel blue
Blush pink
Lavender
Mint green
Soft peach

Earth Tones: There's a growing trend towards natural and sustainable design elements. Earthy tones can make a room feel grounded and cozy:

Terracotta
Olive green
Taupe
Beige
Warm browns

Bold & Vibrant Colors: For those looking to make a statement, bold shades can bring a lively energy to a room:

Bright yellow
Electric blue
Ruby red
Turquoise
Deep purple
Are There 3D Wallpaper Designs That Transition as a Child Grows?
Some designs are timeless, like nature themes or abstract patterns, suitable for all age groups.
Nature Themes:

Forests & Trees: A serene forest can appeal to a toddler's imagination and a teenager's appreciation for tranquility.
Galaxies & Stars: Space-themed wallpapers are timeless. What starts as an interest in twinkling stars can mature into a fascination with astronomy.

Geographical and World Maps:

As kids grow, these can shift from being playful backdrops to educational references. They can even use these to mark places they'd like to visit or have been to.

Abstract Patterns:

Geometric shapes, waves, and abstract art can serve as a stimulating visual for younger kids and become a stylish design for older ones.
How Do I Remove 3D Wallpaper Without Damaging the Walls in a Kids' Room?
Steamers or specific adhesive removers can help. Again, it's best to refer to manufacturer guidelines.
1. Gather Supplies:
Drop cloth or old sheets
Sponge or soft cloth
Plastic scraper or putty knife
Bucket
Warm water
Mild dish soap or vinegar
Optional: Wallpaper steamer or wallpaper removal solution
2. Prepare the Room:
Lay the drop cloth or old sheets on the floor to catch any water drips and debris.
Remove furniture or push it to the center of the room.
Turn off any electricity to outlets and switches in the room.
3. Test a Small Area: Before you start the full removal, test a small inconspicuous area to determine the best approach.
4. Loosen the Wallpaper Edges:
Start at a corner or seam and use your fingers or the plastic scraper to gently lift the edge of the wallpaper.
Be careful not to dig into the wall to avoid causing damage.
In conclusion
3D wallpapers are an innovative way to revamp children's bedrooms, offering a blend of aesthetics, engagement, and creativity. Always prioritize quality and safety when making a choice. And remember, the aim is to create a space where dreams come alive!