Why am I such a loser? This thought often comes to the mind of every individual who is struggling hard to establish his business, his career, or even who is trying to seriously focus on his/her life. The word "Loser" strongly affects a man's personality. Life is really unpredictable and is full of ups and downs, struggles, and sufferings. When you are doing well in your career and your life is settled well, everyone appreciates and admires you. But if there comes a sudden change and life pushes you down, at that time you see the real faces of people around you. Every single person who admires you because of your wealth suddenly labels you as a "Failure" or "Loser". Nothing hurts a person more than hearing such dishearten words and at that time when he really needs the support of others.
Such degrading words and one's own thoughts put him into depression and lead him towards negative thoughts. These negative thoughts push a person towards losing his self-confidence and he doubts his abilities, his decisions and he considers himself a loser. At such a point, if a little thing goes wrong he would think that I am such a loser. Such negative thoughts only do harm and destroy one's positive attitude and way of thinking.
"A negative mind will never give you a positive life"
Reasons of "Why Am I Loser"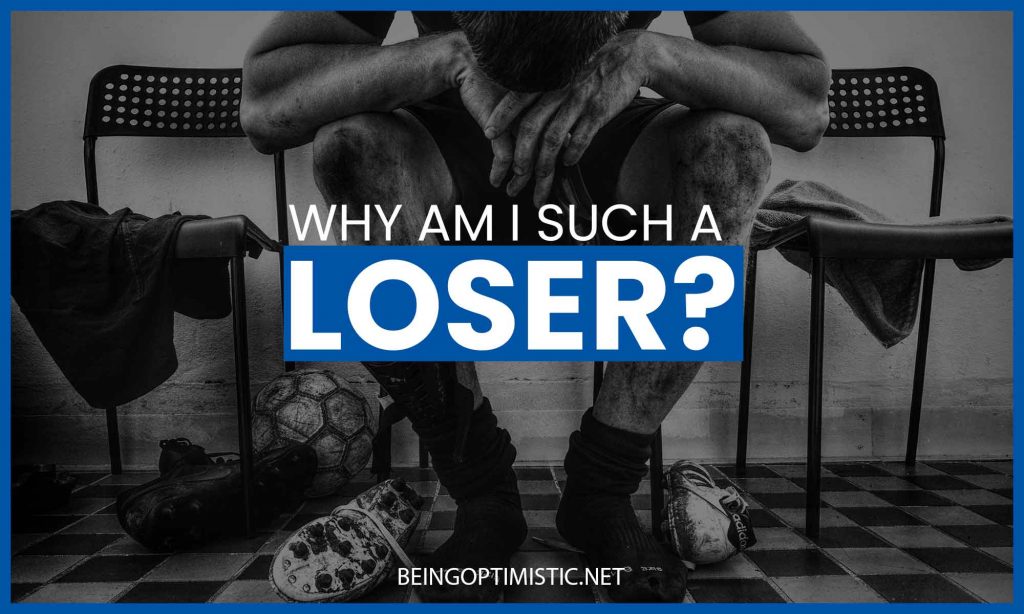 Your negative thoughts and loss of self-confidence make you think "Why am I such a loser?"
Common Factors that Makes a Person Loser:
Complains about almost every little thing: The title of a loser affects a person so strongly that he complains and doubts about every little thing. He becomes a pessimist and his negative thoughts reoccur every time he is going to do something for his betterment. Under fear of such thoughts, even the slightest incorrect thing makes him think "Why am I such a loser?"
Self-doubt or Loss of self-confidence: It doesn't matter at all if you consider yourself a 'Loser' or someone tagged you as a loser, what does matter is that this thought is making you lose your confidence. Your self-doubt will lead you nowhere and you will not be able to do anything for yourself. This phase is really a form of helplessness where you know the cause of your failure and can't even help yourself to overcome it.
Give up on life and goals: One of the biggest factors that define a loser is that he easily gives up on his ambitions and his life. Giving up on your life because of your life experiences is not a solution to your problems. Life is all about ups and downs and if you want every day of your life exactly as you want it to be that's almost impossible. Because things always don't go your way. If you have better days in your life, there will also be the worst days. There is a famous saying "Life is not a bed of roses."
Depending upon others for your happiness: Being a pessimist a loser always considers others inferior to himself. He always thinks what they are doing is much better and he admires them. Doesn't even believe in himself and his ambitions. He only sees one side of the picture and thinks that the cause of other people's happiness is their success. While this concept is not always right. Some brave people know how to hide their tensions behind their smiles, unlike a loser.
Don't believe in himself: A loser just doesn't believe in himself. Under the shade of his negative thoughts, he thinks that everything he does is just going in the wrong direction. He easily loses hope and always thinks that "Why am I such a loser".
Take no responsibility: Such persons are usually afraid of taking any responsibility. They think that if they take any responsibility it will eventually end in failure. They always consider others responsible for their failure. If you are not taking responsibility for your failure then stop asking "Why am I such a loser?"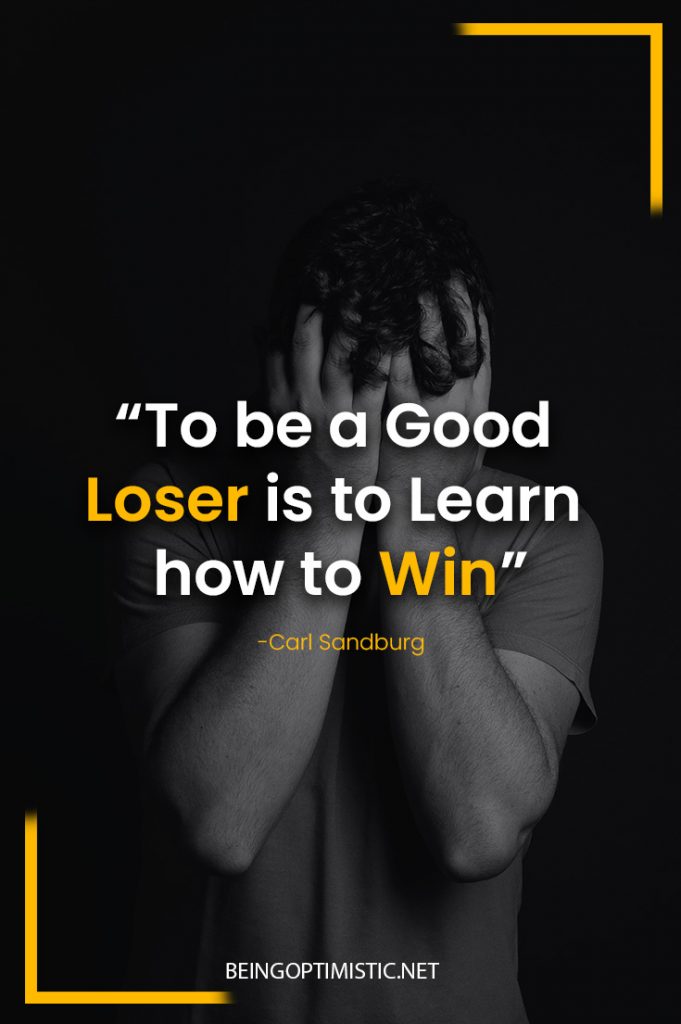 You may also Check:
How you are tagged as "Loser"?
Losers are generally of two types; one who considers themselves as losers and others who are tagged losers by other people. No matter what type of loser you are, the thing to be worried about is that you are tagged as a loser. There come days in the life of a person when he has to go through sufferings, hardships, and problems. Life pushes him down as well as the attitudes of people around him change. All these things affect his ability of thinking. His thoughts become negative and he loses his concentration. That is the phase when he is tagged as a loser.
No one is a loser from the beginning, it's their circumstances, their environment, and their problems that lead them toward their failure. When a person faces sudden problems in his life, he becomes hopeless and thinks that everything is over and nothing is left. He even loses interest in his goals and becomes aimless. All people in his surroundings taunt him leading him towards the phase of selfishness and irresponsibility.
"One who doesn't recognize an opportunity is a bigger loser than one who tries his hand at an opportunity."  (Amit Kalantri)
 List of Effective ways to avoid the Thought "Why am I such a loser?"
Here are some effective ways you can try to give relief to yourself from the thought "Why am I such a loser?" These tips will help you to come to light from the darkness of your failures and disappointments.
Admit that you are a loser: The first step towards a positive and successful life is admitting your weaknesses. Admitting won't let you down but it'll motivate you to do better and better. Have you ever seen an ant carrying a grain of rice or sugar? Despite her constant failed attempts to crawl on the wall with a heavy load, she never loses her courage. She tries again and again until she succeeds. That is the spirit one needs to make his life successful. Your constant failure doesn't define you but your little strength and positivity at that time define you. Failure and Success both are part of life and the brave people are those who don't proud in times of success and don't lose heart over failure.
"To be a good loser is to learn how to win" (Carl Sandburg)
Keep Healthy Relationships: Surround yourself with people who stick by your side through your thick and thin. Such positive-minded or helping people even convert your worst days into good ones. Keep a distance from selfish or negative-minded people who only surround you on your happy days. Such people are more dangerous than enemies. They secretly unlike you and that's why they always remind you of your failure. Keep a healthy relationship with those who really admire you and cheers you up when you need a shoulder to cry. Share your problems with them and ask for their help to relieve some burden.
"We love those who know the worst of us and don't turn their faces away" (Walker Percy)
Remember your Achievements: Whenever you feel down just remember all the accomplishments you've made till the day. Recall you're happy moments and surround yourself with positivity. It'll help you to motivate yourself and you'll be clear about your next step. Just keep in mind your one failed attempt doesn't define that you are a loser. Focus on where you are standing now and which steps you need to start all over again. Whenever someone reminds you that you are a loser just look them in eyes and assure them that these days will soon be over. If good days don't remain for long nor will bad days. Remind such negative people of all the achievements and accomplishments you've made.
"Don't be disappointed, the winning side is not always the right one" ( M.F. Moonzajer)
Plan your Future: When negatives thoughts surround you just stay motivated and remind yourself that this failure is temporary and you'll overcome this soon. Planning your future is one of the best ways to divert your attention. Just list out all things responsible for your downfall and start working on those things. Trying, again and again, is the key to a successful life. If one thing isn't going right at the current time, plan it for the future. Everything happens at a right time and giving time to things often results in better ways than trying again and again. Just keep your record stronger and list down everything in advance for your convenience.
Embrace Challenges: Challenging yourself is a great way to overcome your weakness. Whenever someone degrades you and puts you down just challenge them, it'll boost your self-confidence and your ability to resolve your problems. In this way, you'll not only prove your worth but you'll also be able to remove the tag of Loser from yourself.
Stop Comparing yourself: The golden rule for a successful life is that stop comparing yourself. Stop giving yourself complexion. You're no less than others. Every person faces problems and challenges in his life but considering yourself inferior is not a good option to overcome negative thoughts. You can't fit into the shoes of other people just as they can't in yours. So, just believe in yourself and say with pride that I am enough.
Conclusion:
It depends upon a person whether he makes his life or wastes it. You can't succeed by whining over a failure all the time. You have to let go of all the negative thoughts and collect each and everything from scratch to overcome your failure. Whenever you think "Why I am such a loser" just consider it as a blessing to get a second chance. Sometimes you don't give your best on the first attempt so a chance can make excellent from best. Just keep your mind positive and see positivity in every aspect of your failure.