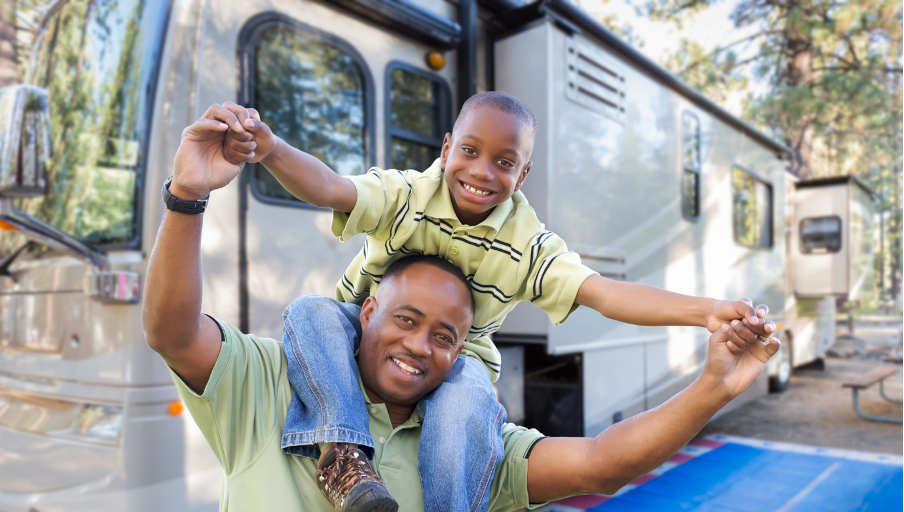 Making the final decision to purchase an RV is an exciting step toward traveling in comfort and luxury. Your recreational vehicle is the perfect home away from home and your ticket to a closer relationship with Mother Nature. Tens of millions of households in the United States of America break out their RVs and hit the road each summer, and you can join them on that journey.
If the idea of summer road trips with your family enthralls you, your best option is to consider buying a used RV. Used RVs offer many of the same benefits you'll enjoy with a new RV but at a much lower price.
The good news is that you've found the perfect guide to learning what to look for and consider when shopping for a used recreational vehicle. Keep reading this article to learn more today!
Never Buy an RV Unseen
Pictures and video tours are excellent resources when shopping for a used RV, but you should still make the trip to check out the RV before making a purchase. Pictures can be deceiving, and the seller can mask issues you'd notice if you check out the RV in person.
It's a major red flag if the seller resists you taking a tour through the RV before making a purchase. They likely have something to hide. Walk away from any deal offered to you when you're trying to purchase an RV if the seller hides damage or other details. You won't discover what's wrong with the used vehicle until you've handed over your hard-earned money.
Look for Signs of Mold
Another thing to keep your eyes out for when shopping for a used recreational vehicle is signs of mold inside the RV. The mold itself is harmful, but you're also facing leaks and water damage if you find mold in the RV. Don't end your search for mold at the typical spots where mold presents itself.
Check around the kitchen of the used RV and look under the bed. Condensation in the used RV can result in moisture buildup, which leads to water damage and mold. It's your best hope to find signs of water damage before purchasing.
You don't want to drive 5,000 miles from home to discover that you're sick from mold exposure and have massive repairs on your hands. Warmth in spaces like closets and cabinets is another sign of a mold issue in your used RV.
Find the Right Length
You'll find many great options when shopping for a used RV, but you must know your purpose and the ideal size for your family. You can discover more here about your used Class A RV options.
If you're new to buying a used RV, it's easy to convince yourself that a small RV is better. This is especially true if you're towing an RV behind a truck for your summer travels. Small RVs are the perfect choice if you enjoy a minimalist lifestyle for traveling.
Consider how many people will travel with you in your recreational vehicle when considering the size. Some large Class A RVs offer enough space to house up to 10 people, while teardrop trailers provide ample comfort for a couple.
Smaller campers and RVs are a better fit (pun intended) if you're worried about parking and fitting into campsites. If you know where you plan to camp, call ahead and find out how large their grounds are before making a purchase.
Consider Your Bathroom Needs
The areas where you plan to camp will significantly affect your bathroom needs. Some campsites have bathrooms and showers with running water, so buying a used RV with a bathroom is optional. The same rule applies if you camp off-grid, though you'll need a shower if your camper lacks a bathroom.
If you're buying a used RV with a toilet, check to ensure it seals. You want to avoid discovering that your toilet is leaking on the floors of your new RV 1,000 miles into your summer vacation.
Another pro tip to try when shopping for a used RV is the space surrounding the toilet. Ensure that all family members can use the bathroom comfortably before purchasing.
RVs also tend to have smaller showers than what you're used to at home. Check the shower to find out if there's enough room to shower after a long day at the beach or a beautiful mountain hike.
Check the Lights
You should never buy a used vehicle if the lights don't work, and this is especially important if you're purchasing a pull-behind trailer. Your trailer must connect to your tow vehicle and allow the brake lights and blinkers to operate to keep other drivers safe when traveling to your next destination.
Connect the camper to your vehicle's 5 or 7-pin plug and check each light. Don't purchase an RV until the dealership or seller resolves any issues with these lights. The interior lights should also provide ample light for reading, cooking, and relaxing after the sun goes down.
Test the Ports and Outlets
One of the first things that many potential homeowners do when shopping for homes is testing the outlets to ensure they work. You should do the same when you're buying a used RV to prevent additional expenses for electrical repairs on your new rig. Your trip won't be nearly as enjoyable if you're struggling to keep your phone and other devices charged.
Check the Tires
Tires aren't cheap, and you're already spending a considerable amount of money when you're buying a used RV. Always check the tires on the RV to ensure that they're in good condition before signing anything. Bald tires create dangerous situations, especially when you're towing or driving a massive RV on windy mountain roads.
Crawl on the ground to check the tread on the tires on both sides of the trailer or RV. If one side looks more worn than the other, you're facing tires that weren't rotated as recommended. You can move on from this RV or request that the seller replace the tires before moving forward with the transaction.
It's best to check for this issue, as a new set of RV tires could set you back more than $1,000. It's also a smart move to check the brand of the tires when you're shopping for a recreational vehicle. Cheap tires could result in a blowout, but a reputable brand will allow you to travel in your new RV with peace of mind.
Check the Beds
The bed in your RV is arguably the most important feature. Your summer road trip won't be the break you crave if you struggle to get quality sleep each night. Test the bed to see if it provides the support your body needs for a healthy and happy vacation in your RV.
Some RVs require you to set up and remove the bed during your trip. Determine if you have the will to do this during your trip before buying a used RV. It might not seem bad, but two months of making the bed will drag on and result in frustration.
Checking the bed's dimensions is another pro tip to help you avoid a poor investment. A queen-size mattress is 60 inches by 80 inches, while short queens are 60 inches by 75 inches. If you don't have any tall individuals in your family, a short queen will be more than adequate for your needs.
Ask About Solar Panels
Solar panels on RVs are a massive trend within the recreational vehicle industry. It's the best way to get off-grid and see the best that Mother Nature has to offer. Ask about solar panels on the RV if you want to take the path less traveled during your future road trips.
You can use solar panels to collect energy and keep your devices charged as long as you're parked in a sunny space. It's the best way to get away from those crowded campsites and enjoy the serenity.
Some used RVs come equipped with solar panels, while others are pre-wired to accommodate these energy-collection devices. Your solar panels will allow you to find the best campsites and save money since you won't need to pay the rising prices associated with KOA and National Park campsites.
Consider Buying a Used RV for Your Next Big Trip
Buying a used RV is an excellent way to see more of the world in comfort and style with your family, but you need to know what to look for to get the best deal on your recreational vehicle. Ask about solar panels if you want to camp off-grid and save money, and check the bed for comfort and size. Learn how to spot mold, and avoid purchasing an RV that you're not able to tour in person.
Ready to get outside and see the beauty of Mother Nature? Check out the rest of our blog content for more beneficial tips to get the most from life today!