Shiny Tyranitar, like most shiny Pokémon, is a rare encounter. In mainline Pokémon games, the base odds of finding a shiny Pokémon without any modifiers is 1 in 4,096. However, these odds can be improved with various methods.
Shiny hunting methods vary across games. Masuda Method, Chain Fishing, and the DexNav are popular in some generations, while the Raid Den method gained traction in the Pokémon Sword and Shield era.
Shiny Tyranitar vs. regular Tyranitar stats

It's essential to note that a Pokémon's shiny status doesn't affect its stats. Thus, both variants have identical base stats.
Regular Tyranitar:
Color: Greenish body with a blue diamond pattern on its belly.
Pupils: Reddish-orange.
Shiny Tyranitar:
Color: A sandy brown or golden hue, with a paler blue diamond pattern on its belly.
Pupils: Yellow.
Stat Comparison:
HP, Attack, Defense, Special Attack, Special Defense, Speed, and all other attributes remain exactly the same between both variants.
Both can achieve the same maximum potential in battles, given the same training, effort values (EVs), individual values (IVs), and movesets.
Any differences in performance between a shiny and a non-shiny Tyranitar in battle would be due to individual differences in IVs, EV distribution, nature, or moveset choices—not because one is shiny and the other isn't.
Shiny Tyranitar codes or giveaways

Keep an eye on official Pokémon channels or fan communities for potential codes or giveaway events featuring shiny Tyranitar.
Pokémon Community Forums and Subreddits:

Websites like the Pokémon Trades subreddit and the PokéCommunity Forum frequently host giveaways or trading threads. Users often organize giveaways for specific Pokémon, including shinies. It's essential to exercise caution and ensure trades are legitimate.

Pokémon Discord Servers:

Various Pokémon Discord servers have trading and giveaway channels. Join active servers to stay updated on potential shiny Pokémon giveaways.

Pokémon GO Events:

Niantic regularly holds events in Pokémon GO where the chances of encountering shiny Pokémon are increased. While there hasn't been an event specifically focused on Shiny Tyranitar, there have been Community Days featuring its first evolution, Larvitar, with increased shiny rates.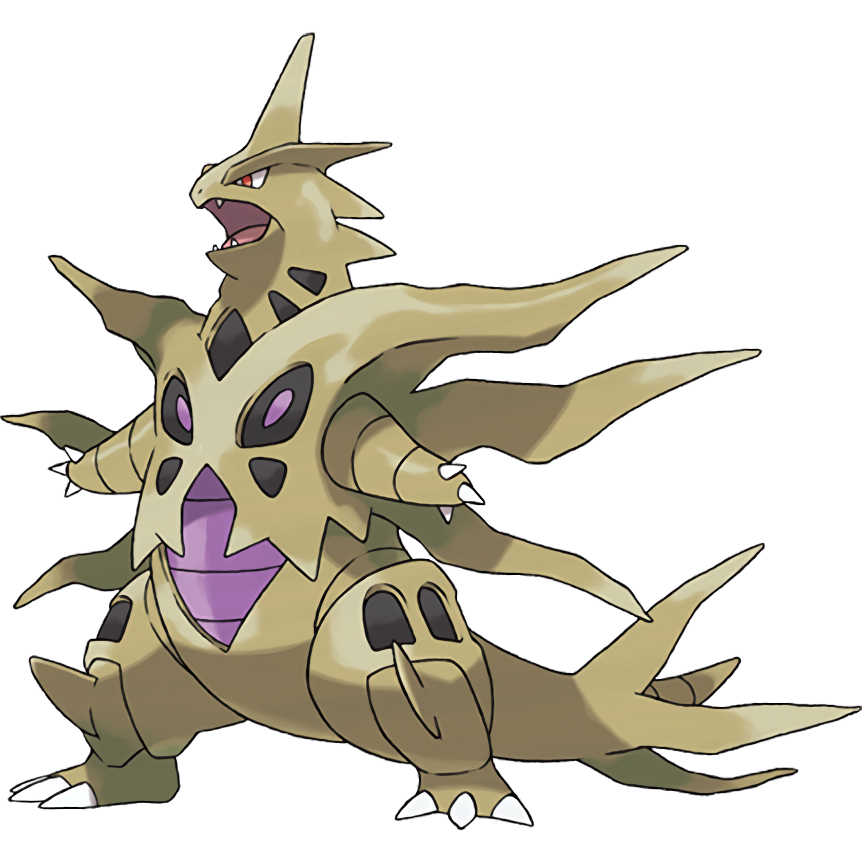 Tyranitar shiny hunting tips and tricks

Patience is key! Equip yourself with the Shiny Charm, engage in Max Raid Battles, or utilize the Masuda Method for better odds.
Hunt for Larvitar:

It's generally more efficient to hunt for a Shiny Larvitar, Tyranitar's first evolutionary form, and then evolve it. This is because Larvitar can be encountered more frequently and is available at lower levels.

Breeding:

The Masuda Method is an effective approach when breeding. By pairing two Pokémon from games with different language settings (like an English game with a Japanese one), the odds of hatching a shiny Pokémon significantly increase.
Use the Shiny Charm (available after completing the Pokédex in certain games) in conjunction with the Masuda Method to maximize your odds.
Remember to use a Pokémon with the Flame Body or Magma Armor ability (like Talonflame or Volcarona) to speed up egg hatching.

Wild Encounters:

Depending on the game, methods like DexNav hunting (ORAS), Chaining with the Poké Radar (Gen IV and Pokémon X/Y), or the SOS Battles method (Sun/Moon, Ultra Sun/Ultra Moon) can be effective for shiny hunting.
For games with the Max Raid Battles feature (like Pokémon Sword and Shield), participating in these battles can also offer a chance for a Shiny Larvitar or Tyranitar.
Breeding for shiny Tyranitar

Breeding with a foreign Pokémon using the Masuda Method can significantly increase the chances of hatching a shiny Larvitar.
Masuda Method:

Named after Junichi Masuda, a Game Freak director who implemented this feature, the Masuda Method involves breeding two Pokémon from games with different language settings. For example, you can breed a Tyranitar from an English game with a Larvitar from a Japanese game.
Utilizing the Masuda Method significantly boosts your chances of hatching a shiny Pokémon.

Shiny Charm:

In some Pokémon games, once you've completed the National or Regional Pokédex, you can obtain an item called the Shiny Charm. Holding this item in your bag further improves your chances of encountering or hatching shiny Pokémon.
Combining the Shiny Charm with the Masuda Method provides the best odds for hatching a shiny Pokémon.

Destiny Knot:

While the Destiny Knot doesn't directly increase your shiny odds, it's crucial for competitive breeding. When held by a Pokémon in the Daycare or Nursery, the Destiny Knot ensures that five out of the parents' twelve combined IVs (Individual Values) will be passed down to the offspring. This item helps you maintain strong stats while shiny hunting.

Everstone:

If you want your Shiny Larvitar to have a specific Nature, make one of the parents hold an Everstone. This guarantees the offspring will inherit that parent's Nature.
Shiny Tyranitar's competitive viability

Shiny or not, Tyranitar remains a competitive powerhouse in many battle scenarios due to its robust stats and versatile move set.
Sand Stream Ability:

Tyranitar's unique ability, Sand Stream, summons a sandstorm when it enters the battlefield. This sandstorm not only boosts the Special Defense of Rock-type Pokémon by 50%, but it also chips away at the HP of non-Rock, Ground, or Steel types each turn. This ability pairs well with Pokémon that benefit from the sand, like Excadrill, making Tyranitar a popular choice for Sand Teams.

Typing:

As a Rock/Dark type, Tyranitar has a good offensive presence, allowing it to deal super-effective damage to various common Pokémon types. However, its typing also gives it a few notable weaknesses, such as Fighting, Fairy, Ground, Bug, Steel, and Water.

Stats:

Tyranitar boasts a high base Attack stat (134), making it a formidable physical attacker. Its base HP (100), Defense (110), and Special Defense (100) also make it relatively bulky.
Shiny Tyranitar merchandise or collectibles

For fans of the dazzling blue behemoth, various merchandise such as plushies, keychains, and cards featuring shiny Tyranitar are available, making them perfect additions to any Pokémon collection.
Trading Cards:

The Pokémon Trading Card Game occasionally releases shiny variants of popular Pokémon. A Shiny Tyranitar card can be a treasured part of any collection, especially if it's a rare or holographic version.

Figurines:

Miniature figures or detailed statues of Shiny Tyranitar can be a fantastic desk accessory or shelf display.

Plushies:

Soft, huggable plushies of Shiny Tyranitar are a hit among fans of all ages. They come in various sizes, from pocket-sized to life-sized.

Keychains & Badges:

Carry Shiny Tyranitar with you everywhere! These small items are perfect for adorning bags, jackets, or lanyards.

Apparel:

T-shirts, caps, and hoodies featuring the design of Shiny Tyranitar can be a way to show off your love for this Pokémon.