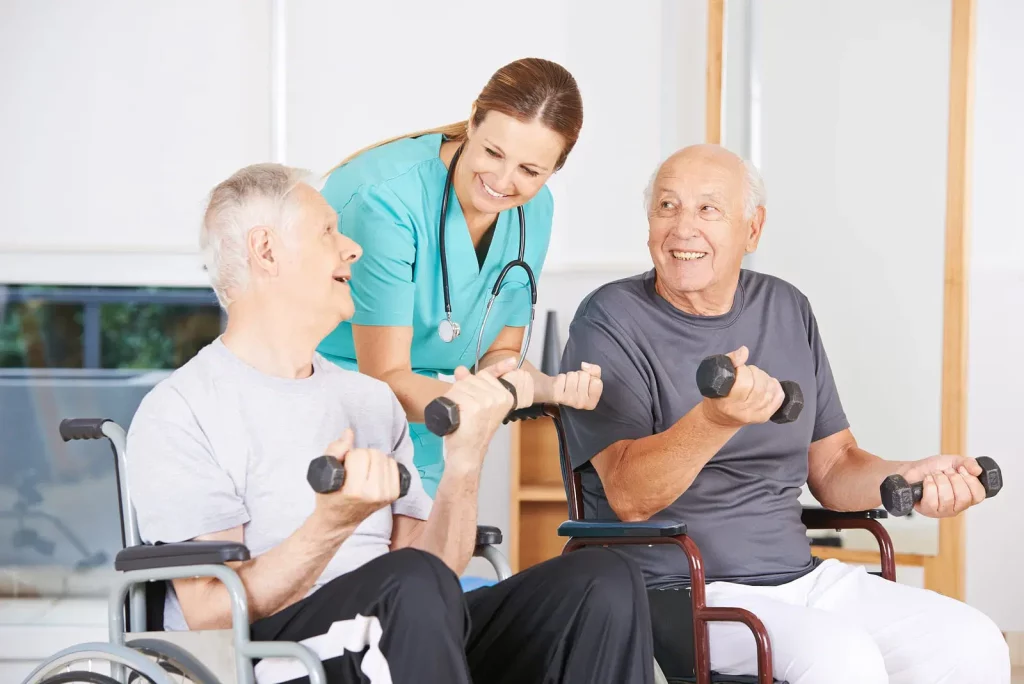 Aging is a natural part of life, and as individuals grow older, they often face various challenges related to mobility, balance, and overall physical health. However, embracing the aging process doesn't mean accepting a decline in health and independence. Physical therapy has emerged as a vital tool in enhancing the lives of seniors, enabling them to maintain their independence, prevent injuries, manage chronic conditions, and alleviate pain.
How does physical therapy reduce injuries
Physical therapy reduces injuries by enhancing seniors' strength, flexibility, and balance. Specifically, tailored exercises and therapies help seniors improve core muscle strength and coordination, crucial elements in preventing falls—the leading cause of injuries among seniors. Physical therapists create personalized routines that target individual needs, enabling seniors to move confidently and safely reducing the risk of accidents. Through these exercises, seniors enhance their stability and muscle control, decreasing the likelihood of injuries related to falls or mobility issues. Additionally, physical therapists educate seniors about proper body mechanics and techniques to navigate their surroundings safely, minimizing the risk of injuries. Overall, pain relief therapy is proactive, empowering seniors to maintain their independence and avoid accidents, ensuring a higher quality of life in their later years.
Benefits of Physical Therapy for Senior's
Physical therapy is characterized as an approach to treating illness, injury, or deformity that does not use medication or surgery, but rather involves physical techniques including massage, heat treatment, and exercise.
The following are some advantages of physical therapy:
Promotes Independence
Physical therapy helps elders become more independent by addressing their unique mobility issues. With customized exercise regimens, seniors can reclaim body control while increasing their strength, flexibility, and balance. Their increased physical capacity makes it easier and more confident for them to carry out their daily tasks. Physical therapists enable seniors to move more independently by strengthening their core muscles and enhancing their coordination, which lessens their need for outside assistance. Seniors who have gained independence in their later years can have more active and meaningful lives because it increases their confidence and cultivates a sense of self-reliance.
Prevent Falls and Injuries
Physical therapy plays a pivotal role in preventing falls and injuries among seniors. By concentrating on improving balance, coordination, and muscle strength, therapists help seniors enhance their stability. Through specialized exercises and training, seniors develop better control over their movements, significantly reducing the risk of accidental falls. These targeted interventions increase confidence and ensure seniors can navigate their surroundings safely, minimizing the likelihood of injuries. By focusing on fall prevention strategies, physical therapy enhances seniors' overall safety, allowing them to maintain mobility and independence without the fear of debilitating accidents.
Speeding up recovery time
In cases where seniors have undergone surgery or experienced injuries, physical therapy plays a crucial role in the rehabilitation process. Therapists design personalized recovery plans that focus on regaining mobility and strength. These targeted exercises expedite healing, helping seniors recover and return to normal activities more quickly.
Controls the Symptoms of Certain Health Conditions
Seniors often suffer from various health conditions like arthritis, osteoporosis, or diabetes. Physical therapy can be tailored to manage the symptoms of these conditions effectively. Physical therapists alleviate pain, improve joint mobility, and enhance overall physical function through specific exercises and techniques, enabling seniors to lead more comfortable lives despite their health challenges.
Alleviates the Symptoms of Arthritis
Arthritis, a common condition among seniors, can cause significant joint pain and stiffness, making movement difficult. Physical therapy interventions, including gentle exercises, joint mobilization, and hot/cold therapies, help reduce arthritis symptoms. These therapies improve joint flexibility, decrease pain, and enhance the overall quality of life for seniors with arthritis.
Manages Pain without Medications
Chronic pain is a prevalent issue among seniors, often leading to a decreased quality of life and reliance on pain medications. Physical therapy offers drug-free pain management solutions. Therapists use manual therapy, therapeutic exercises, and modalities like ultrasound and electrical stimulation to alleviate pain. By addressing the root causes of pain, physical therapy provides seniors with long-term relief and reduces the need for pain medications.
Manages Chronic Conditions
Seniors with chronic health conditions like heart disease, chronic obstructive pulmonary disease (COPD), or diabetes can benefit significantly from physical therapy. Therapists create customized exercise programs to improve cardiovascular health, respiratory function, and overall endurance. Regular physical therapy sessions help manage these conditions, enhancing seniors' overall well-being and reducing the risk of complications.
Where to Find a Physical Therapist
There are multiple ways to locate a physical therapist for elderly people. Primary care doctors, who frequently have extensive networks of medical specialists, can provide referrals. Physical therapy treatments and advice can be obtained from nearby hospitals, rehabilitation facilities, or community health clinics. Seniors and their families can also research and select specialists based on proximity and expertise by using online healthcare directories and platforms offering comprehensive listings of licensed physical therapists in particular areas. It's crucial to check qualifications and read reviews to ensure the therapist fulfills the unique needs of the person looking for physical therapy services.
Conclusion
Physical therapy for seniors is not just a treatment; it's a gateway to a healthier, more independent life. By addressing mobility issues, managing chronic conditions, and preventing injuries, physical therapists empower seniors to embrace aging confidently. Through personalized care plans and expert guidance, physical therapy enables seniors to lead active, fulfilling lives, breaking the barriers of age-related limitations. Embracing the benefits of physical therapy is not just a choice; it's a step toward a future where seniors can enjoy their golden years to the fullest, with vitality, mobility, and independence.