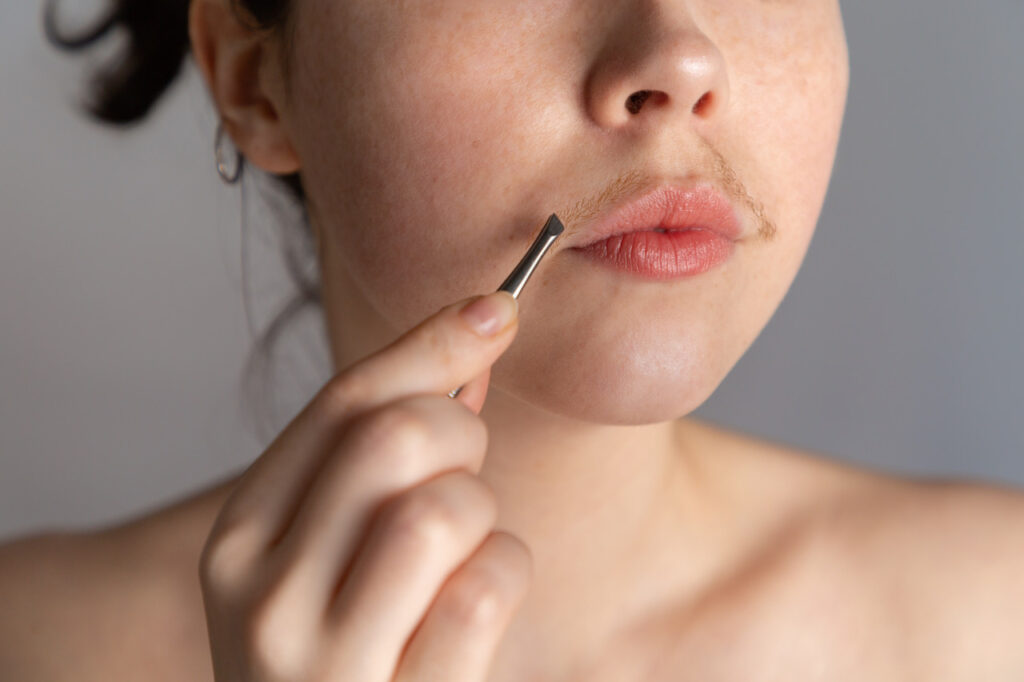 As you enter middle age, it's normal to be on the lookout for common signs of menopause like hot flashes and mood swings. However, one symptom of the change you may not anticipate is facial hair growth. Here's what you need to know about this unwanted condition, along with how to control it if it happens to you.
What Causes Menopausal Facial Hair Growth?
The excessive hair growth that sometimes occurs in women is called hirsutism. It can occur before, during, and after menopause, and is characterized by dark or coarse hair that appears in atypical places, such as the face.
When the hormone androgen, a.k.a. testosterone, spikes in relation to estrogen, increased facial hair may result. While conditions like diabetes or hormone sensitivities are sometimes the culprits in this imbalance, it's often the changes that take place during menopause that trigger the problem. Not every woman experiences hair growth issues due to menopause, but it's a fact that estrogen levels decrease at this time in life.
How Does Facial Hair Growth Affect Women?
Although not medically concerning, many women view hirsutism as yet another bothersome problem associated with menopause. Despite being a natural occurrence, it can cause embarrassment and make otherwise happy and healthy women feel uncomfortable in their own skin.
When added to other unpleasant menopausal symptoms like thinning hair, brittle nails, weight gain, and changes in body odor, experiencing facial hair growth may feel like the final straw when it comes to dealing with the change. Hirsutism and other visible signs of menopause may lead women to limit social interactions and can negatively impact overall well-being.
Is There a Way To Treat Facial Hair Growth?
Fortunately, excessive hair growth can be successfully treated without spending hours on expensive lasering, tweezing, and bleaching. Replacing depleted estrogen helps your body tackle hirsutism and a host of other menopausal issues, and there are safe ways to do this without increasing your risk of breast cancer or other conditions.
Turning to a product featuring S-equol, a natural, soy-based ingredient that mimics estrogen, helps minimize hormone-induced menopausal symptoms. Regardless of what stage of menopause you're in, S-equol treatments like Equelle work to restore hormonal balance, providing relief for everything from excess hair growth to hot flashes to muscle pain.
S-equol is both safe and effective. After decades of development and research at the clinical level, Equelle side effects have been found to be minimal. As with any plant-based supplement, you'll want to watch for and address gastrointestinal issues. For many women, side effects diminish after about a week, and taking Equelle with a meal may help. When in doubt, consult your doctor.
Now that you know more about unwanted hair growth and how S-equol can help, it's time to take care of hirsutism and your other troubling menopausal problems. Check the reviews on Equelle to read about the experiences of real women who've turned to S-equol for relief. Once you place your order, you'll be one step closer to feeling better during menopause.