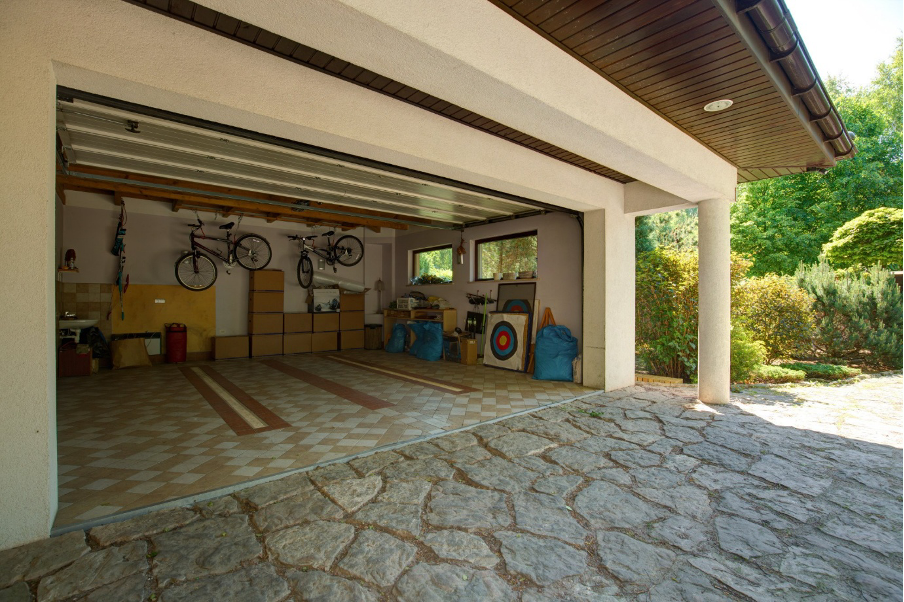 Do you have a garage that takes up a big area of your house? Do you want to change it up so that you can get the most use out of it?
Renovating your garage with some perfect man cave garage ideas can be easy if you have the right information.
Read along to learn what you should consider for your garage so you can make the most of it.
Let's get you started!
1. Automotive Haven
A perfect man cave garage idea for those who want an automotive haven would be to incorporate useful storage units for car parts and tools. For example, having shelves or bins for the spare parts and tools that are needed for quick repairs and maintenance.
Additionally, the walls can be covered with shelving units, where cleaning supplies, oil, and car fluids can be kept. Finally, completing the automotive sanctuary should include an innovative polyurea garage floor coating where there is no need to worry about dirt, grease, and oil because it is impervious to oil spills and provides superior durability.
Having an automotive haven allows the individual to organize their dream man cave garage and express their passion for their car.
2. Sports Bar Retreat
Start by outfitting the garage with comfortable tavern-style seating – plush couches and chairs, with adjustable tables for drinks and snacks. Create a warm and inviting atmosphere with your favorite sports team colors, fun logos, signs, and posters.
Hang a large flat-screen TV and mount a sound system for watching the games and adding the right ambiance. Kick it up a notch by providing a mini refrigerator and a kegerator to keep beverages nice and cold.
Add a popcorn machine and an arcade game or two for entertainment. Don't forget to show your team spirit with team-specific light fixtures, rugs, and trinkets.
3. Gaming Paradise
From casual gamers to hardcore fanatics, there's something for everyone. Some of the greatest ideas for gaming man caves include optimized sound systems to immerse yourself in sound, a high-definition projector for a full cinematic experience, and a large comfortable seating area with gaming consoles in the center.
You may also want to outfit the space with gaming chairs and an array of dazzling lights and special effects for added immersion. Invest in shelves to showcase gaming collections and custom-decorated walls for a personal touch.
Finally, think about arcade games, snack areas, and a beer fridge for entertaining friends. A man cave gaming paradise isn't complete without a few extra perks.
4. Home Theater Experience
A perfect man cave garage can be upgraded with an amazing home theater experience. The walls can be fully insulated, a home theater projector can be installed on the ceiling and a high-definition audio system can be put in place. All of this can be complemented with comfortable seating, dimmable wall lights, an air-conditioner to keep the temperature nice, and of course, a few added touches like a bar and a game console.
With all these added amenities, you will have an amazing man cave where you can watch your favorite sports games, movies, and show or just simply enjoy the game nights with friends. The home theater experience in your man cave garage is sure not to disappoint.
5. Workshop and Hobby Space
A perfect man cave garage is not complete without a dedicated space to pursue a workshop and hobby interests. Consider adding an array of storage solutions to create clean and organized spaces for tools and supplies. A wall-mounted pegboard is a perfect spot to hang frequently used items, such as power drills, hammers, screwdrivers, sandpaper, and any other tools that need to be handy.
For supplies that need to be tucked away, find storage bins that fit nicely on shelves and can be labeled. As for other hobby supplies such as paints, woodworking projects, and even musical instruments, be sure to find adequate shelving to store everything needed without taking up too much room. To make sure that everything is easy to find when needed, line up all of the shelves in the same direction for a cohesive look.
6. Fitness and Gym Area
The perfect man cave garage can have lots of ideas, but an ideal one should include a fitness and gym area. This can be specifically tailored to accommodate all of the man cave dwellers' preferences and needs. To make the gym area efficient and convenient, consider installing wall-mounted storage for kettlebells, barbells, weight plates, and other fitness and gym accessories.
Consider a convenient music system too for fun and energetic workouts. To make it even more comfortable, install a few fans to keep the area cool during intense workouts. Lastly, make sure to add enough weight lifting and exercise space depending on how many people are using the man cave gym.
7. Retro Arcade Room
Not only will a retro arcade room bring back nostalgia and fond memories of playing classic video games, but it can also be an incredible conversation starter for visitors. Begin by finding vintage arcade games online, such as Space Invaders, Galaga, and Pac-Man.
These can be repurposed to work with modern game platforms, like PS4 and Xbox, and can be even more nostalgic with custom buttons and displays that show the original artwork of the classic games. Once you've got your retro arcade setup, complete the man cave look with vintage posters, a classic "arcade" neon sign, and a recliner or two, so you can invite your friends to come and enjoy the arcade experience with you.
Consider These Perfect Man Cave Garage Ideas
Make creating your ultimate man cave garage a reality by utilizing these creative man cave garage ideas. Whether it's adding vintage-style seating, artwork, or numerous audio & visual equipment, you'll have the space to enjoy for years to come. Start bringing your perfect man cave to life now!
For more articles aside from renovating a garage with these man cave designs, visit our blog.